Home Improvement really went all out for the holiday episodes and this one is no exception.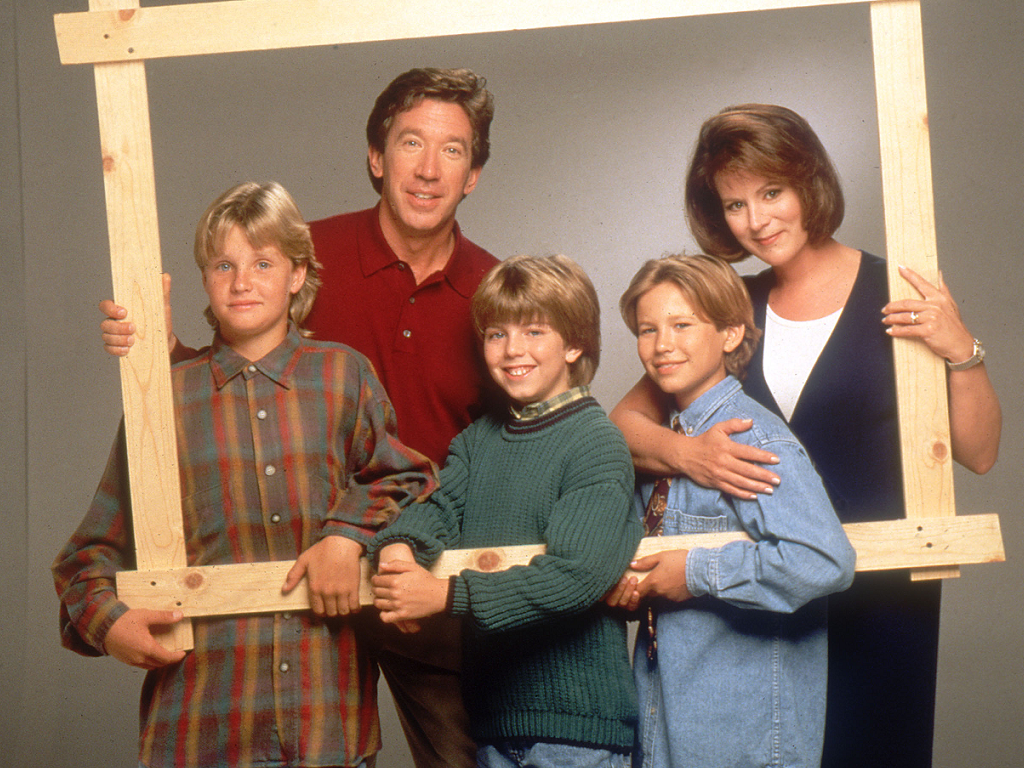 Brad is having a Halloween party and he's dressing up as Raggedy Andy because his first girlfriend is going to be dressing up as Raggedy Anne. He feels really embarrassed by the costume, but his dad reassures him "A lot of times men do things they don't want to do so the women they're going out with will do things they don't want to do." Annnndddd this is your daily reminder that Tim Tayor is kind of a piece of shit. When Brad innocently asks for an example and his wife, Jill, challenges him on this terrible piece of advice, Tim offers a few innocent options — my favorite of which is "shave your back hair."
While getting ready for the party in the backyard, Tim starts chatting with neighbor Wilson, who tells him that everyone likes being scared because of the release of epinephrine. As someone with chronic anxiety symptoms I would like to officially say that — NO — I do not like being scared. I've got more adrenaline than I can handle based on my natural brain chemistry so please leave me out the "fun" scaring thank you very much.
Anyway, Randy and Mark go trick or treating while Jill puts the finishing touches on Brad's Raggedy Andy costume. Randy is dressed up as a pirate whereas I'm not sure who exactly Mark is supposed to be. He kind of looks like Gordon Gekko but if they said that officially then I missed it.
Jill is staying home for the party, but she's decided to dress up as well. They lost her reservation at the costume shop and she had to take the only thing they had left — a giant carrot. Now listen, I don't know if it's the fact that I did not get much sleep last night or what but I find this absolutely HILARIOUS. I laughed out loud, I kid you not.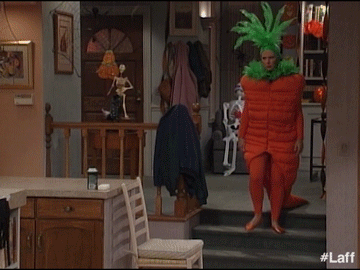 Moments later, Brad answers the door to greet his guests and finds that Jennifer has arrived to the party dressed as not Raggedy Anne but rather a biker chick. And she's at the party with Shawn from Boy Meets World. (Okay, not literally Shawn but it is Ryder Strong and while they said his character name when he showed up on screen, I have immediately forgotten it and will be referring to him as Shawn henceforth.)
Additionally, this is a pre-Boy Meets World Shawn, so he has a sweet little angel face — and before you're like wait wait wait didn't he just steal Brad's girlfriend? The answer is no. Evidently, Brad was being a little shit (probably about the costume) and so Jennifer decided to attend the party with someone who was nicer to her.
Okay, okay it's still Brad's party so I recognize that this is shitty behavior regardless. But they're preteens and this is their version of communication. As a former middle school girl, I do remember that power plays were commonplace albeit incredibly detrimental to actual human relationships.
Shawn makes fun of Brad's Raggedy Andy wig, which coming from someone with incredibly good hair, is an extremely low block. Things come to blows — aka a sixth grade shoving match — and Brad runs out of the house after Tim breaks things up.
Tim goes outside to talk things out with Brad and winds up encouraging him to direct his desire to hit someone towards Jennifer (!!!) instead of Shawn, but this is played for laughs because you know joking about domestic violence with your young son is prime parenting.
Tim tries to help determine what Brad did to upset Jennifer, but Brad can't think of anything and laments the fact that Jennifer said he "should know." In further misogynistic parenting, Tim tells Brad to go inside and tell Jennifer "I understand," which in his words makes women "forgive you for just about anything."
Tim also advises Brad to take the wig off before he talks to Jennifer, which reminds me that this episode was shot back when Brad had a mullet.
Brad confronts Jennifer about not showing up to the party as Raggedy Anne and she tells him, "I was going to." He replies and, per his father's instructions, says, "I understand." Jennifer is like wtf. And Brad clarifies: "I understand that you're mad at me." (Nice save.)
It comes to light that Jennifer is upset with Brad because he picked a different girl to be on his kickball team over her. Brad defends his decision by saying that he wanted to win and he did win so there! But Tim (eavesdropping across the room) clears his throat loudly while saying "don't start talking like that" under his breath. Brad gets the message and course corrects.
Brad tells Jennifer that picking her was more important than winning and he apologizes. Jennifer apologizes for not wearing her half of their couples costume. And then everyone gets to enjoy the Halloween party!
Tim has turned the entire basement into a haunted dungeon with lots and lots of fog machine smoke. He's dressed up kind of like the old lady from Psycho but there's no official mention that's what he's supposed to be. He does pretend to eat a maggot and then say he wants to kiss one of the kids, who all run screaming up the stairs because that is a truly truly terrifying prospect.
All the kids except for Shawn that is. Shawn stays behind to insult the entire family. He tells Tim that he can't build anything and his show should be called "Fool Time." I mean, he's not wrong but he is a little jackass.
In response, Tim tells him to check out the tool box across the room. At first Shawn thinks it's stupid, but then he opens the box to reveal Al's disembodied head. And that's enough to really freak him out. Then all of the creepy spooky creatures (including Wilson whose face, don't worry, you still can't see) pop out and scare the crap out of him. Good. He deserved to get knocked down a peg.
Oh by the way I found it so off-putting that I didn't even mention it throughout this post, but Jill has been getting low-key bullied by one of Brad's classmates all night and I sincerely hope she spoke to his adult at home about this.
Very Special Halloween Lesson: I'm going to take a hardline stance on this one. Eleven is too young for couples costumes. You date and break-up every two-days in the sixth grade. There's no way you're staying together consistently enough to coordinate outfits.