I know you're all very familiar with Jesse Spano's caffeine pill problems, but did you know that Alex P. Keaton once took diet pills so he could study more? (Honestly, it sounds like your mileage may vary. Comedian Elna Baker describes taking phentermine and spending several intense hours making a really shitty birthday card in her book, The New York Regional Mormon Singles Halloween Dance: A Memoir. So in my very special opinion, you're not gonna get quality results on your mind or body with speed.)
In this episode, Alex wants to stay up all night working on school work. He enlists his sister Mallory's help in getting diet pills (a.k.a. speed) from a friend of hers. Mallory obtains the pills from her reluctant friend with the promise that Alex will take her out on a date — even though he's super not into her and fat shames her to Mallory when she tells him the details of the transaction. Oh my gosh the 80's, there is soooo much that is wrong with this situation. And you can betchya only the pill issue will be addressed in this episode — and only as it relates to Alex.
Alone in his room, Alex delivers a lengthly soliloquy (and a little more fat-shaming) as he agonizes over whether or not to take the pills. Seeking the advice of his framed 8×10 photo of Richard Millhouse Nixon, Alex eventually pops some pills (off-screen).
The next time we see Alex, he's high on stimulants playing Monopoly with his family (as if Monopoly could be any more aggressive). Alex's ex-hippie parents are very oblivious to the fact that their son is high. I would truly expect better of people who met at Berkeley.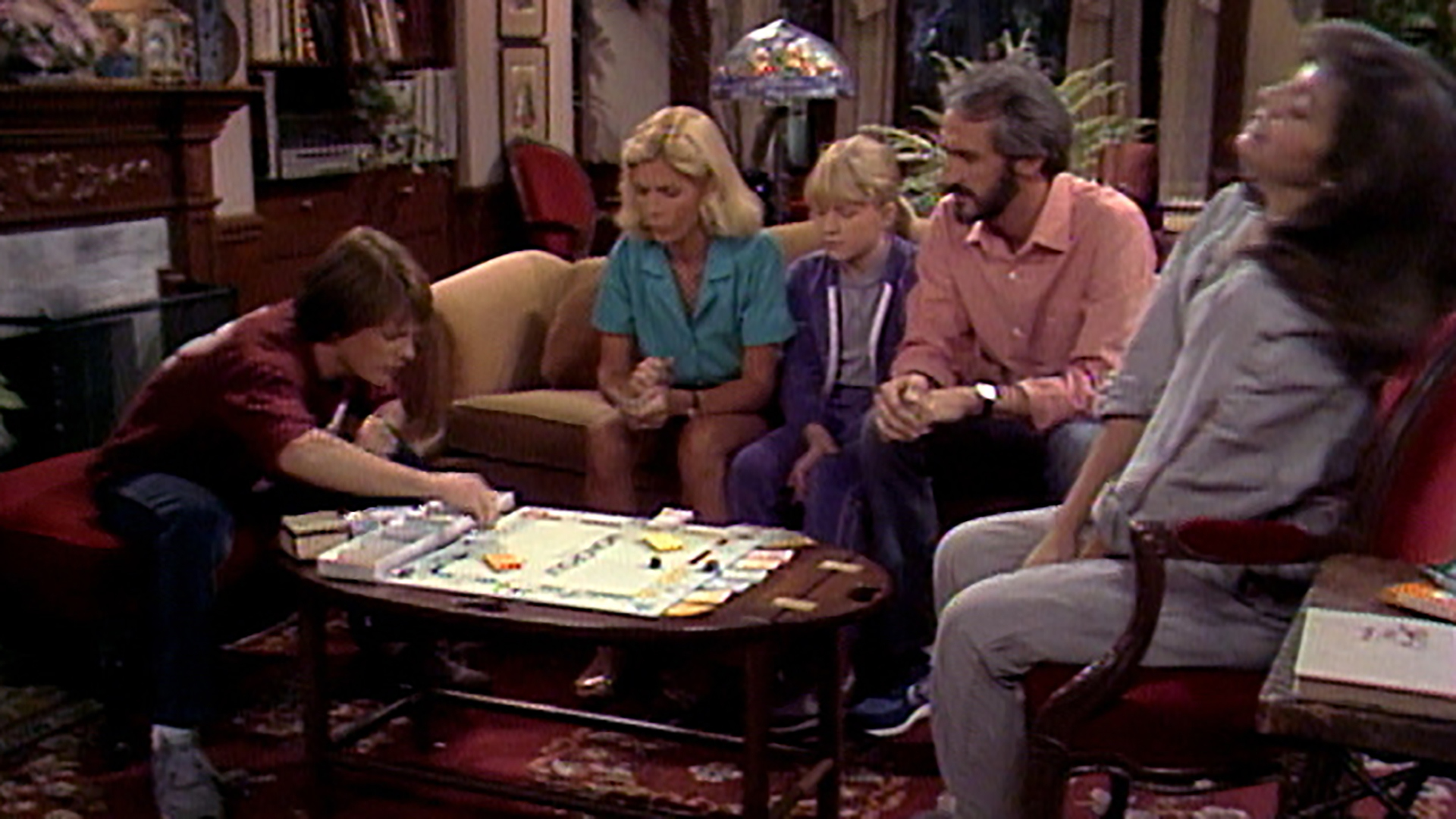 Later, Alex approaches Mallory for more pills and when she tries to cut him off, he breaks cardinal rule number one (never go through a teenaged girl's purse) and takes the pills for himself. Mallory tells Alex that she never wants to speak to him again. Alex tells Mallory that if she tells their parents about what he's doing then she'll be in trouble with them too. (Seriously? The hip Berkeley parents of the 80's?? Mallory isn't all that smart, so she believes this to be true.)
Alex becomes increasingly exhausted and irritable. This culminates in a fight with his mom after he catches her watching a documentary with Jennifer about the human reproductive system. He turns off the television, calls it smut, and says Jennifer should believe in the stork until she's twelve. Oh boy, the Reagan Years.
Alex's mother tells him that it isn't his house and sperm-egg fertilization is science not smut. His mother decides to punish him by having him clean the house — which his speed-addled-heart loves. Come on parents, why so slow on the uptake???
Alex later tries to bribe Mallory for more pills, which doesn't work. He then calls her friend directly. (On a cute little yellow touchtone phone. Oh man don't you miss how fun landlines were???)
Mallory's friend hooks Alex up with more pills (also off-screen). The next time we see him, he's studying while painting his room bright blue at 3:30 am. This finally causes his father to realize something is up. He then discovers that Alex has only slept four hours total during the past week and finally realizes his kid is on drugs.
Alex tells his dad that he's doing great on pills. (He isn't. He started digging trenches for a sprinkler system nobody asked for in the backyard.) Alex's father tells him that when he was younger he took speed too, which is why he can say that this is a horrible idea. He tells Alex that they both need to go to bed and will discuss this further in the morning. Alex falls asleep mid-lecture. He continues to sleep through his big test.
Waking up an hour late, he frantically tosses his room looking for more pills. It's so poorly written but Michael J. Fox is so good. He's really, really too good for this writing. Alex finally realizes he can't stave off the inevitable crash and that his whole speed plan seriously backfired. We then end with Mallory reminding Alex of the details of his date with her friend — oh and another fat joke.
Very Special Lesson: Sleep is super, super important. Like SO important. It also just makes me sad when people abuse drugs for the purposes of studying. Like damn, I know our education system is broken but still. I suppose the one good thing about this episode is that even model-student goody-goody Alex P. Keaton is not immune to the cycle of addiction. But that's about all this episode does well. Diet pills and supplements are often terrifying. And popular culture knew that when this episode was released–at least in terms of OTC pills. Allowing for the fact that doctor prescribed diet pills are largely a sign o' the times in this episode, it's a real shame that neither Alex nor his (formerly) hip-to-drugs father spare a moment for Mallory's friend, who was taking those pills to impress people like Alex while most likely suffering the same side effects he found so debilitating. For all we know, she wasted several hours off-screen making him a shitty card, risking her life in an attempt to satisfy conventional beauty standards. But Alex was too busy insulting her, using her, and worrying about his grades to think about how she might be feeling.
On a lighter note–just a quick plug: I'll be participating in the 3rd Annual So Bad It's Good Blogathon later this month. Stay tuned for my take on the CLASSIC film Her Alibi staring Tom Selleck and Mr. Feeney.