Stephanie and her friends are playing in her shared-room with DJ, who just happens to walk in while Stephanie is jumping on DJ's bed and holding on to her Pillow Person. DJ reminds Stephanie she isn't supposed to mess with her stuff and kicks her and her friends out of the room.
But Stephanie comes back in and insists they discuss their Halloween costumes for the carnival only to find out that DJ is planning to bail on her promise to go to the carnival at Stephanie's school and go to a junior high school party instead.
This explodes into a larger fight with each girl running to Danny and asking him to send the other's friends home. Danny reacts by sending all of their friends home and confining them to their room without music, phone, or television (the entire 90's trifecta) until they can "learn to get along."
Meanwhile downstairs, Danny, Jesse, and Joey are engaged in a little friendly running competition. They decide to make things more interesting: the winners get to pick the Halloween costumes that the losers will have to wear to the carnival.
After struggling to eat dinner while Stephanie annoys her relentlessly, DJ proposes that they simply fake a reconciliation so Danny will let them out of their room. The rouse works.
As soon as Danny leaves, Stephanie tells DJ she wants a divorce and she'll be moving in with Michelle.
Stephanie and DJ move Stephanie's bed into Michelle's room. Uncle Jesse says it's okay with him for the night, but he'll have to check with Danny to see if it's okay long-term. While Stephanie and Michelle head to bed, DJ rollerblades in the space where Stephanie's bed used to be.
The next morning, Danny, Jesse, and Joey are preparing for their sprint race when Rebecca shows up with the film crew from Wake Up, San Francisco! Ugh. She is truly the WORST.
Danny begs Jesse and Joey to let him win so he's not embarrassed on his own show. But they both refuse to throw the race. Joey has his heart set on making Danny dress up as Big Bird and Jesse as his imaginary friend Snuffleupagus.
According to Rebecca's reporting, Danny is star athlete who despite being in his thirties and not training at all, has started his sprint fast enough to break the world record. But we know she's not a reliable source for facts on innate athletic ability, so I would take that with a big old grain of salt.
After about 50 meters, the other guys catch up to Danny. And by the time they've made it 200 meters into their 400 meter race, they're all moving at a slow crawl. Turns out none of them are in great shape. The momentarily agree to stage a tie, but this alliance quickly falls apart when Rebecca starts egging them on from the finish line.
Once again, flouting all rule and regulations in the wide world of sports, Rebecca determines the winner by snapping a photo — form the chest up. And declares Danny the winner because his nose crossed the finish line first. Apparently, feet don't matter in a foot race.
When they return home, they find that Stephanie has realized living with a three year old is not ideal for getting a good night's rest. She calls it "A nightmare on Sesame Street." When DJ refuses to let Stephanie move back into their room, Stephanie threatens to take her to court.
In a strange show of parenting, the three men decide to hold a moot court with Joey acting as DJ's lawyer and Jesse representing Stephanie. Danny will be the judge. This is such an upper-middle class white dad way of solving family problems…anyway…
To the court, DJ explains that she's no shared interest with her little sister and needs more privacy than sharing a room with Stephanie will allow her. Jesse cross-examines DJ and nails her on the fact that she played Barbie dolls with Stephanie only a week ago!
When it's Stephanie's turn to take the stand, she says she cannot live with DJ because DJ just doesn't like her anymore. DJ says she does like Stephanie, but she just doesn't want to live with her. Danny tells them that Michelle is just too young to have Stephanie live with her. And then they all tell the girls how one day they'll have more in common and love having each other as sisters.
Hold on — hold on — wasn't this really all about DJ breaking a promise to Stephanie? Why have we not addressed that? The carnival is the root of this issue, people!!!!!
Well don't worry because they actually do resolve this issue on their own. DJ asks Stephanie later on why she's so upset about the fact that she's not going to the carnival with her. Stephanie tells DJ how much she admires her and wants to spend time with her. DJ tells Stephanie how much she makes her laugh and that she likes spending time with her too. It turns out there's a really great solution to all of this…DJ can go to the carnival first and then go to the party!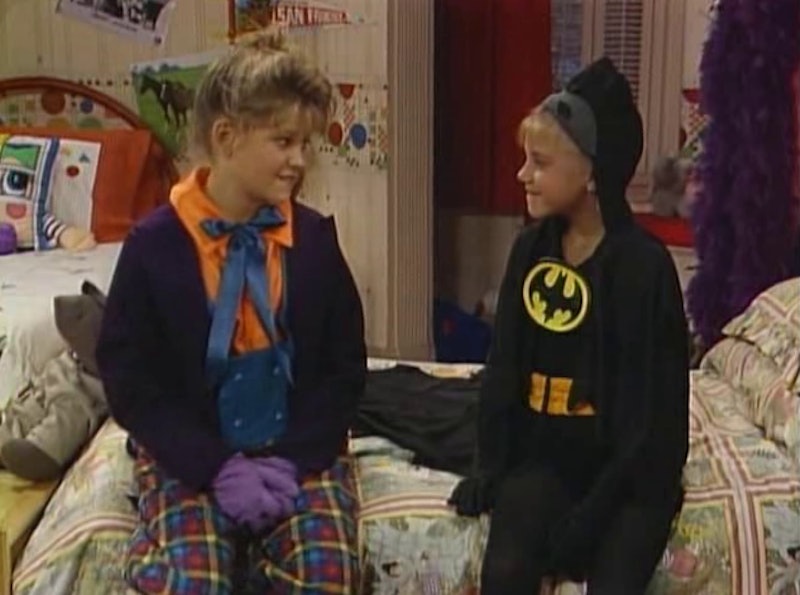 And what costumes did Danny pick for Jesse and Joey? He's made them both dress up as Shirley Temple. On another note, I'm pretty sure I had a dress like the one they're wearing in 1995.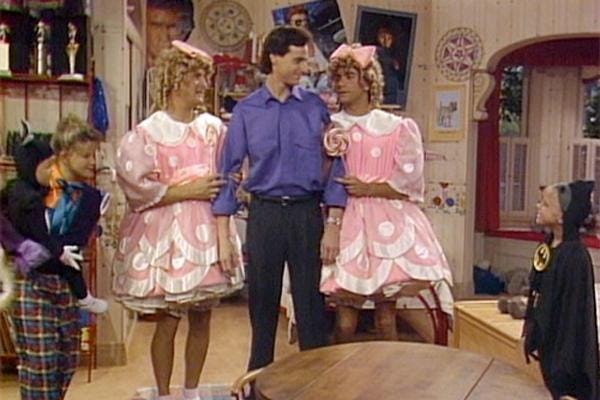 Very Special Halloween Lesson: This one seems pretty straight forward to me. Never ever let Lori Laughlin judge your costume-contest-400 meter race.