The 1984 film Red Dawn paired Patrick Swayze opposite his co-star from The Outsiders, C. Thomas Howell, and future Dirty Dancing co-star, Jennifer Grey. Joined by Lea Thompson and Charlie Sheen, the cast plays a group of teens in a Cold War era adventure-film envisioning a Soviet land invasion of the midwest.
Prepping for this post was my very first time watching Red Dawn. Before that my only exposure came from the wonderful VH1 Anthology Series I Love The 80's 3-D. (They're all good but I might actually be partial to I Love the 80's Strikes Back).
Unfortunately, I Love The 80's 3-D made this movie look a lot more fun that it really is. Suffice it to say, I regret having to watch this one and not Skatetown, U.S.A. However, Red Dawn is pretty important in the development of Patrick Swayze's career and, even though I think it's fair to say I absolutely hated it, I still feel like it wouldn't be right to skip this.
Just like in The Outsiders, Patrick is still carrying that Big Dad Energy in Red Dawn. He's playing the slightly older brother of a high-school senior-aged Charlie Sheen, even though in real life Patrick Swayze was born a whole thirteen years before Charlie Sheen. When Soviet and Cuban forces invade their small Colorado town (instead of say, a more pivotal strong-hold for reasons that make absolutely no sense when scrutinized) by parachuting into their schoolyard (please, don't pay attention to any logic here), the two brothers and a bunch of teens (including C. Thomas Howell and a few other boys I didn't recognize) head for the hills (or rather, mountains) to wait out the attack.
When their parents are either killed or placed in re-education camps, the teens and Swayze quickly transition from "wait it out" mode into "paramilitary" mode, employing their high school mascot (Wolverines!) as their rallying cry. So here's where I'll pause and say that, aside from the clunky plot, the biggest problem with this movie is that it feels like watching two straight hours of propaganda. The next biggest problem is that when they finally introduce a couple of female characters (played by Jennifer Grey and Lea Thompson), it kind of feels like the two women are acting out some Rambo version of Nell while the guys exist in the Rambo version of The Goonies — I'm borrowing this phrase from "Fast-Rewind" — which is to say that the guys have a lot more character development and fairly good scenes while the women are usually left with very little dialogue and a murky backstory.
It's almost like the movie wanted to be a little "girl power" wit them because Lea Thompson's character goes off on Charlie Sheen's character when he tells her to "make herself useful" with the dishes and both women are very capable paramilitary members…but…who are these women? Aside from knowing their grandpa asked Patrick Swayze to take them up into the mountains because they were being harassed by the invading troops, I literally know nothing about them. Even with the guys I can't remember (because I don't recognize them from any other movies), I know approximately how old they are, where they went to school, and how they feel about their families. Heck, I even know one of them is the student body president.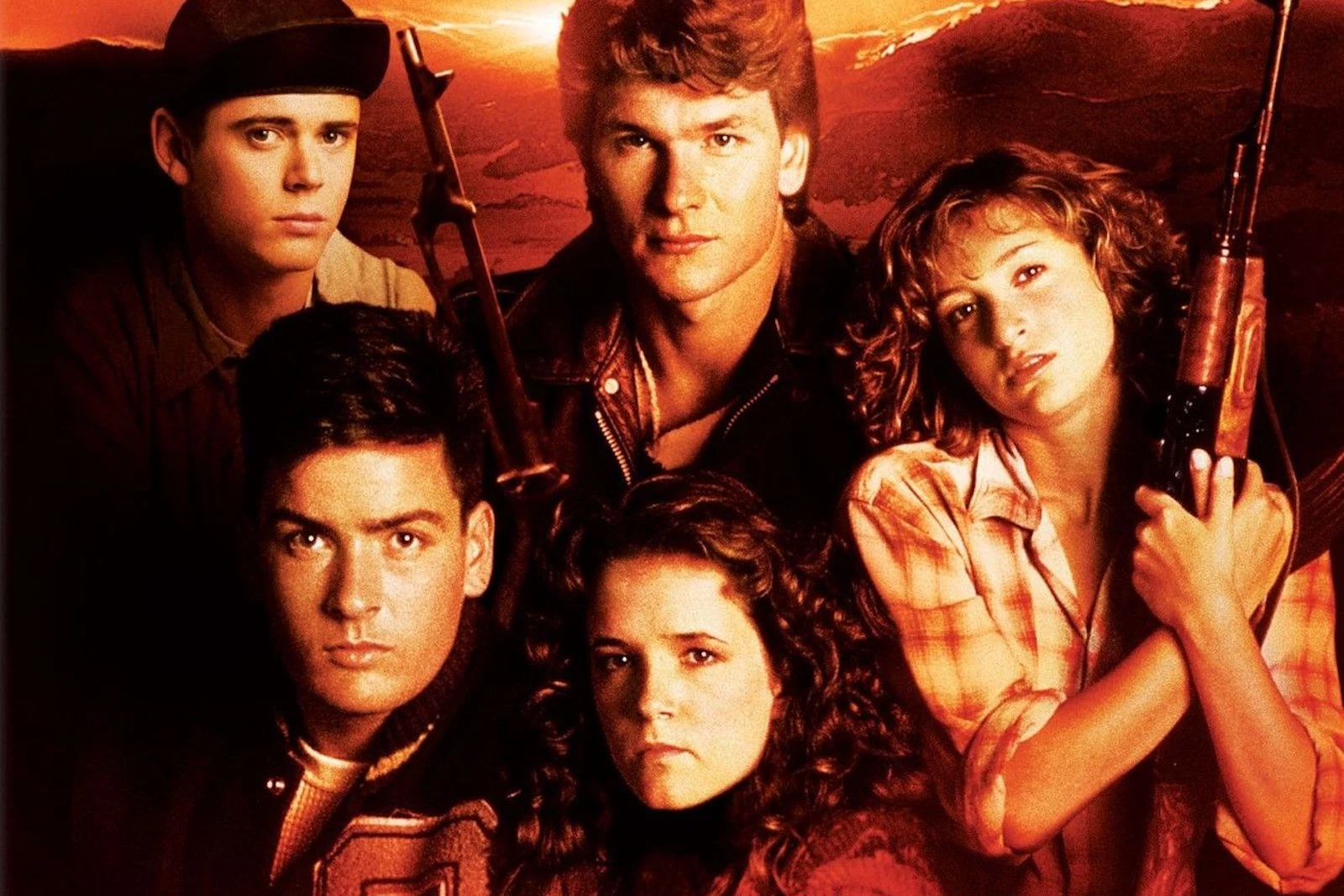 So let's talk about what the movie did well (because it's not all bad). Spoilers abound in this next part:
-Jennifer Grey's physical acting was put to good use in this movie in a way that I maybe should have expected having seen Dirty Dancing but didn't.
-Both Patrick Swayze and Charlie Sheen have fully developed characters and a ton of highly emotional scenes that they handled incredibly well. Even when the plot was disjointed, I found them both to be very believable.
–Harry Dean Stanton was around for a little while as the father to our protagonist brothers. It's always good to see him. He always does a good job. He did play a lot of dad's didn't he? Unfortunately, in this movie he has some of the corniest dialogue ever written.
-Powers Boothe played an American pilot and, like all Powers Boothe appearances, it's impossible to take your eyes off him.
-We got a cameo from Coach Reilly from The Mighty Ducks and Judd Omen from Dune and, at some point or another, practically every 70's or 80's TV Mystery show you've ever seen.
-I wasn't really sure what C. Thomas Howell was going for at first or if he would have much of a character. I know he's a good actor, but like I said this script isn't really doing anyone any favors. That said, I found his performance to be one of the most affecting in the film. He starts off as an innocent and tender-hearted teen, who gradually becomes hardened and hollowed out as he spends more time as a paramilitary member until he is left with almost no sense of morality by the end of the film. He's usually doing this with very little dialogue, which I cannot imagine is easy to do. I'm guessing he's about sixteen or so in the film, so about two years younger than an eighteen year old soldier. But I couldn't help but feel like I was watching the slow development of P.T.S.D. in the making, which was possibly the hardest part to watch at times.
-While the casting of Superfly's Ron O'Neal (who as far as my research can tell was not Latino) as Cuban Commander Bella is problematic for a number of reasons, the script at least afford itself a little bit of nuance FINALLY when we see Bella struggle (as a former paramilitary member himself) with his new role in a totalitarian takeover without populist support. He also gives Swayze and a mortally wounded Sheen safe passage (even though they're doomed anyway). However, this collective 90 or so seconds is a welcome reprieve in an otherwise jingoistic (with the absolute broadest of brushstrokes)film.
-This movie is beautiful. Yes, it's incredibly painful and depressing to watch for two very long hours, but the cinematography is genuinely gorgeous. (FYI the locations are Nevada not Colorado).
But you're here to hear about Swayze so let me focus on the man of the hour (er, I mean, summer):
Look, I'm obviously a fan girl or I wouldn't be doing any of this, but all that aside — there were so many moments in this movie where I felt like Patrick Swayze belonged in another, better version of this film. Don't get me wrong, there is plenty of good acting from the younger actors, but they're all trudging their way through a mediocre film, trying to make the best of it. Meanwhile, Patrick Swayze gives a consistently sincere and nuanced performance in a script that contains almost no nuance. He's the kind of actor who gives you hope for what Red Dawn could be — the kind of film where nuance and subtlety do exist because a ragtag bunch of resistance fighters is an interesting and effective story when in the right hands (a.k.a not in the most paranoid, and frankly racist, plot I have ever seen in anything that isn't technically called "propaganda"). You can't help but think, damn this man needs a better script! (Luckily, he was about to get it.)
I'm going on a very special vacation, so join me in mid-July for Dirty Dancing.
Sources & Further Reading
'Red Dawn' Wasn't About the Cold War; It Was About Shooting People By Alan Zilberman published in The Atlantic on November 18, 2012
'Red Dawn': Viewers Take Warning By Rita Kempley published in The Washington Post on August 10, 1984
Lea Thompson shares 'Red Dawn' memories of Patrick Swayze By Alynda Wheat published in Entertainment Weekly on September 15, 2009
When Patrick Swayze Rigged a Director's Toilet With Explosives By Simon Brew published on Den of Geek on February 8, 2017