At the top of this episode, the gang's resident advisor (Mike) who is about thirty-five years old announces that he will be hosting Thanksgiving dinner for a group of underprivileged kids. For this reason, he can't use his NFL tickets.
Mike offers the tickets up to the group and only-child Zack pitches a whole sob story about how his "brother" Teddy has just returned from the Peace Corps and would love to attend an NFL game with him because Zack is a sociopath. He doesn't even want to go to the game. As it turns out, his plan is to scalp the tickets.
Meanwhile, Slater coaches his girlfriend, Alex on how to make a good impression at his family's Thanksgiving Dinner.
Don't talk politics with Slater's father
Laugh at his uncle's jokes
Pretend to be Mexican when speaking to his grandma
Sounds like this relationship is destined for long-term success!
A college friend, Leslie, declines an invite to spend Thanksgiving with Kelly, opting instead to help Mike with his dinner. She says her family isn't big on Thanksgiving, which Zack is surprised to hear because her ancestors were on the Mayflower.
Leslie asserts that some of her ancestors were at the First Thanksgiving, and invented the three bean salad. (No amount of facepalm emojis will suffice. Please go back and click that link if you skipped over it.)
Leslie spends most of her day making turkey place cards out of construction paper and school glue. They're actually pretty cute. But Mike reprimands her, saying: "These are tough street kids, not the Olsen kids." Because I guess only wealthy white kids enjoy crafts? What the actual fuck, Mike?
A lot of things happen in quick succession: Mike and Screech attempt to lift a pool table. Mike injures his back. Screech tries to help Mike by pushing his wheelchair, but Screech sucks so he rams the wheelchair into a wall at top speed. Mike ends up with a concussion. Screech decides to stay with Mike and "help" him even though Mike begs him to go back home to LA with everyone else.
Lucky for everyone else, Screech isn't with them when they take a shortcut on the drive back to LA and breakdown in the middle of nowhere. I can only assume the one thing that would make that awful situation worse is Screech.
Zack is stressed because he wants to get back home and sell the NFL tickets. When they see a car, they all try to flag it down except for Alex who scares off the passing vehicle by pretending her flashlight is a gun because she believes them to be Pod People…because they drive a Chevy.
Everyone thinks she's stupid, and she is deeply heart by their reactions. She sounds delusional. Like maybe it's just the stress of breaking down on the road in the middle of nowhere in the middle of the night, but like she may want to consider seeking professional help.
After spending the night by the broken down car, the gang gets towed back to college on Thanksgiving morning.
Zack announces that he's trying to fly back to LA on standby. Kelly tells him he's selfish. (He is.) He denies it. (Of course he does.) And Slater calls him out for not adding anyone else's name to the standby list.
After talking things over with Mike, they all decide to spend Thanksgiving with the underprivileged kids. The only problem is that Screech switched out the order for cooked turkeys to an order for frozen turkeys in order to save a little money.
So the kids show up to eat while the turkeys are still frozen. Zack runs off to find an open store while Screech tries to thaw the turkeys with a hair dryer. (I am sure this is not a best practice for food safety.)
Before he leaves, we learn that Zack secured a spot on the standby list by pretending to be a doctor picking up an organ donation. (Just in case you thought he wasn't a piece of shit. Wanted to set that record straight real quick.)
Zack returns from Seven Eleven (the only open store, which he tells us repeatedly in an offensive accent like he's trying to be Apu or something.)
While Screech tries to thaw the turkeys in a sauna (yikes), the news interviews Mike. In the middle of the interview, Screech serves the kids a platter of turkey jerky…ugh. Zack also tries to co-opt the interview to request an extra plane ticket to LA. GEEZE.
Then Jonathan Brandis shows up with an actual cooked turkey and if you're a millennial girl then you're heart just broke in one thousand different ways. (If you're not a millennial girl, Jonathan Brandis was like a baby River Pheonix whose life also ended tragically at a young age.)
Sweet Angel Jonathan Brandis saw the turkey jerky news report and decided to deliver an actual meal to the kids! It turns out a few celebrities had this same idea (and all evidently live in the San Francisco area) because Marsha Warfield from Night Court shows up next with another beautiful turkey. Jenna von Oy from Blossom arrives next (btw Kelly Kapowski is announcing all of these people as they enter.) Jenna brought pie btw.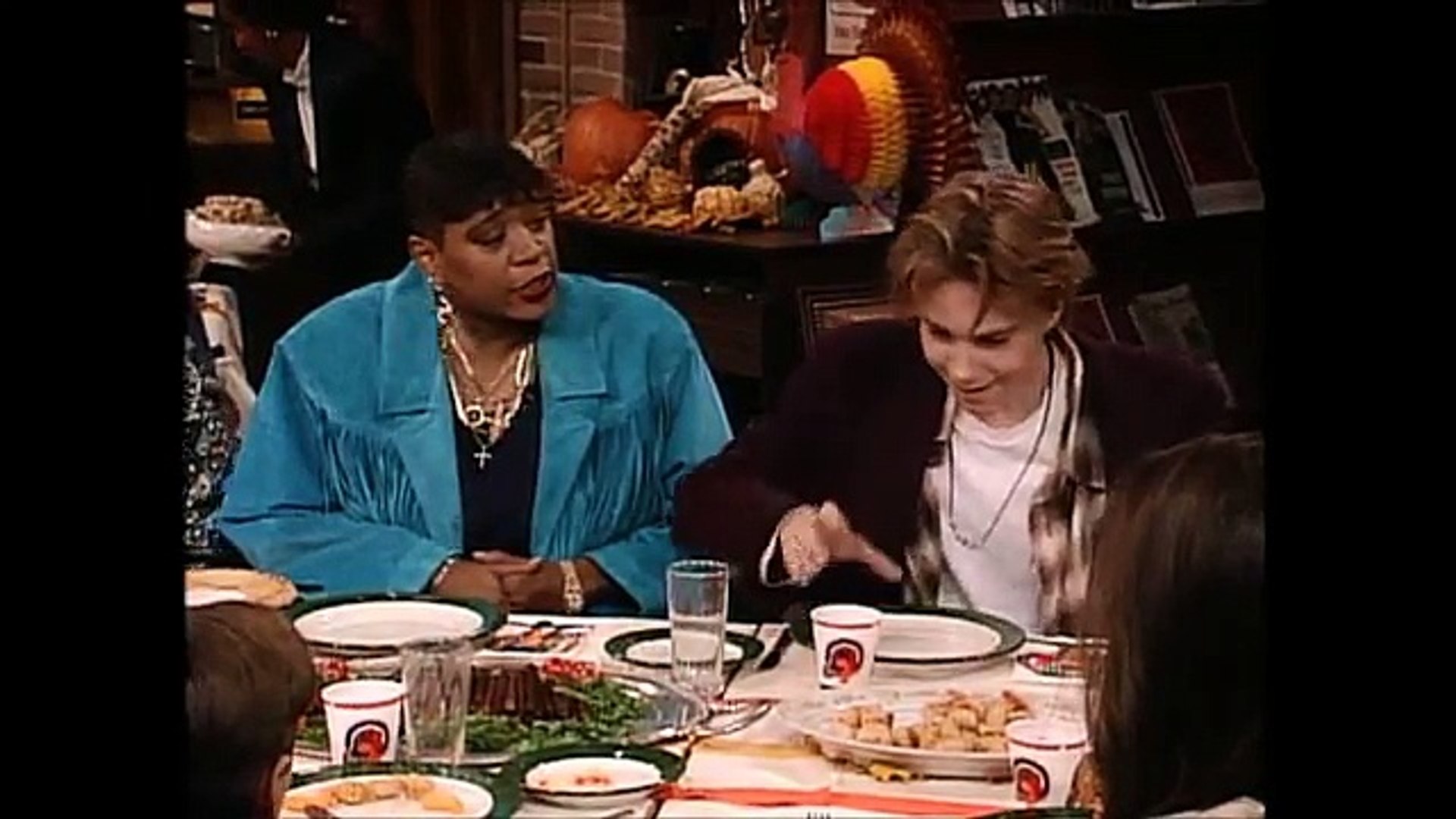 Then Mr. Belding from the show's original run show up to honestly as many fan cheers as Jonathan, Marsha, and Jenna got. And this sounds like a live studio audience but honestly idk I guess it could be a track. He's in town to visit his mother and decided to bring by some mashed potatoes, which he promptly asks Jenna von Oy's to sign her name. Considering that Jenna is approximately sixteen years old at the time of this filming, it's more than a little weird.
Kelly makes a nice little speech about thankfulness just in time for Brian Austin Green to show up with cranberry sauce. OMG THIS WAS A LEGIT 90'S WHO'S WHO. I truly wasn't into this episode at all but this ending was all very heartwarming to my millennial heart. (Fun fact: This episode was probably filmed shortly before Tiffani Thiessen became Brian's castmate on 90210.)
Zack pulls Kelly aside to do something truly nice for once. He's gotten a ticket back to LA and he's giving it to her. Zack tells Kelly her happiness is more important that money and she says, "I think that's the nicest thing you've ever said to me," which is really kind of a bummer when you think about it.
Very Special Thanksgiving Lesson: Do not outsource your supply chain management (unless you live in an area with a lot of very giving celebrities willing to pitch in at the eleventh hour.)
In other exciting news. The SBTB reboot is now streaming on Peacock! Have any of you watched it yet? Let me know in the comments!