First of all, I forgot this theme song was by Coolio and it totally slaps. Secondly, Kel introduces this episode as a "Very Special Episode," which made me feel even more like I was in the right place. It's always good to have your selections validated!
After the pre-show intro, we cut to Kel decorating Kenan's family's Christmas tree with orange soda — which reminds me, head over here to check out my orange soda donut recipe.
On Christmas Eve, Kenan places a downpayment on a bike. Kel tags along to the store and finds his dream present — and one of the best props I have ever seen — a tubaphone.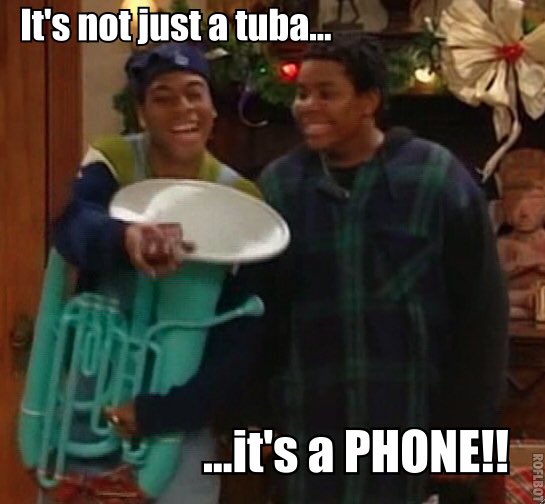 Seriously. There's even art of this thing. God, I love the internet.
While at the store, Kenan and Kel witness a mob of small children attack Santa. With the original toy store Santa no longer up to the job, the store manager recruits Kenan to be Santa for a flat rate of $100. Kel gets to be an elf…I'm not sure if he's also being paid or just being supportive. Either could be true with Kel.
Turns out, Kenan is the best Santa ever. He evens speaks an obscure language called Fishlockian and is able to sing a carol with this small Scandanavian child:
Everything is going great until he promises a bike to a kid who asks for the gift for his sister — only to find out that their mom can't afford it. So Kenan decides to use the money he intends to use for his mountain bike to buy these kids some presents.
That's all well and good but he also decides to break into the house, dressed as Santa, to leave presents. Luckily, this doesn't go poorly and the whole family thinks it's very sweet instead of very creepy.
After all this, Kenan somehow has cash left over to buy Kel the tubaphone.
Don't worry though because the real Santa (or maybe just the store manager also doing a little B&E) brings Kenan his bike on Christmas Eve after the family goes to sleep. Kenan and Kel then close the show with the rest of the episode's cast and the audience singing We Wish You A Merry Christmas.
Very Special Holiday Lesson: Breaking and entering is okay as long as you leave gifts? No wait. Absolutely don't do that. Just leave a gift card in the mailbox instead. Bye!
I'm also going to share my favorite Kenan & Kel bit from All That: "Mavis & Clavis":
And also this really cute reunion video: