Hello! We're still a couple of days out from A Very Special Holiday Season, but I've got an early edition (addition, actually) for you! I am participating in You Knew My Name: The Bond Not Bond Blogathon with Remington Steele's Christmas episode, "Dance, Prancer, Donner and Steele." The rules of the blogathon are that you pick an actor that played Bond but write about a non-Bond entry on his resume. So I picked Pierce Brosnan, of course.
Full disclosure: I have never in my life seen an episode of Remington Steele, but I must have seen it on I Love the 80's or something because I do know the premise. For the unfamiliar, here's a brief summary: a female private investigator, Laura, has her own agency but no one trusts her competency because misogyny. She invents a fake boss named Remington Steele and a former con artist, played by Pierce Brosnan, assumes his identity. Mystery-solving and flirtation ensues. For what it's worth, Remington has a lot of low key Bond energy. (The show even prevented Brosnan from assuming the role as planned in The Living Daylights.)
In this episode, the agency is having an "open house" holiday party, but Pierce/Remington is moping in his office instead of partying because it's 97 degrees on Christmas Eve. I assume we're in like LA or something where maybe that's normal? IDK I'm an east coaster, but 97 degrees on Christmas is my climate change nightmare, so I do understand the need to mope.
Anyway, the open house party is basically just like random office tenants and the vibe is awkward. There's a podiatrist, an advertising agent, some man in a suit, and a plant lady — who can't stay long. Also there's no booze. There is, however, a scheduled Santa appearance…which is an odd choice for a party full of random business neighbors.
Unfortunately, Santa is two hours late. And…he also has a gun and is part of an entire series of Santa psychos named Dancer, Prancer, and Donner. This episode is like if The Taking of Pelham 123 and Die Hard had a sparsely-decorated, mid-rise office building baby. All these Santas are waiting for a fourth Santa named Blitzen. He's the ringleader and also has the exit plan. Seems like you'd want to make sure the guy with the exit plan was there before you started the heist…but I've never heisted before so what do I know?
The Santas insist that Remington hand over the "hardware." And Laura's like sure I'll go get you "the agency gun." What??? I'm not pro-gun, but shouldn't an agency of private investigators have more than one gun? Like if you're going to have a gun, then why not have a 1:1 gun/investigator ratio. How are you sharing the agency gun in the field?? That's a dangerous relay-race that I don't even want to imagine. I can only hope she's lying to hide the fact that there is more than one gun.
Luckily, agency employee Mildred (Doris Roberts) has a secret gun. She briefly looks like she'll get control of the situation, but the Santas overpower her. Remington jumps through the throng of Santas and recovers the gun. Unfortunately, he can't actually use it because he knows it is unloaded since he found the bullets in his office. OH MY GOD THERE GENUINELY IS ONLY ONE AGENCY GUN.
With this in mind, I would only recommend hiring Remington Steele if you need help with asset tracing or getting a telephoto lens shot of your cheating lover. For everything else, you're probably going to want to go with Magnum, P.I. or Charlie's Angels because all of those ladies know martial arts and would probably have already overpowered the Santas.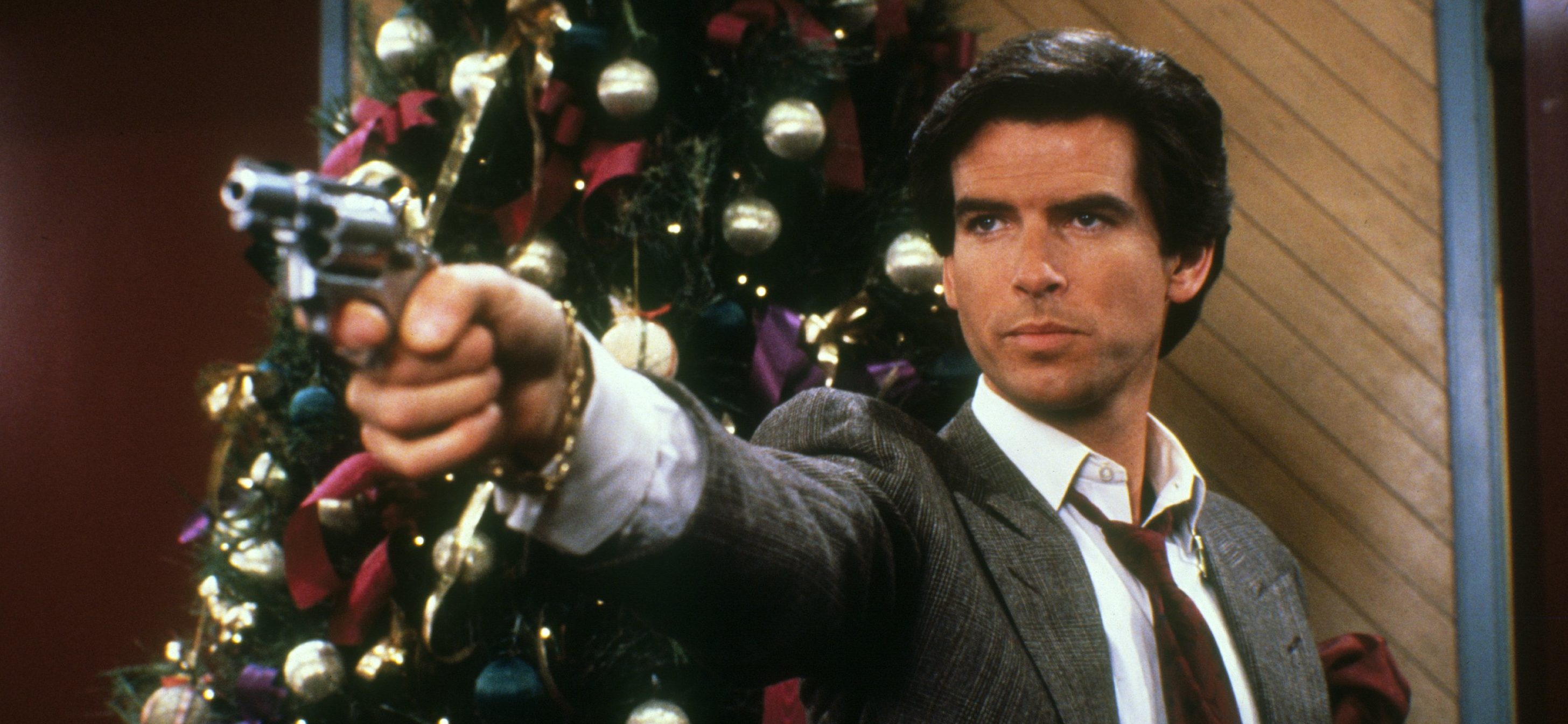 Okay, I might have sold these Santa's short on the ruthlessness — they're not exactly Hans Gruber — but they are planning on blowing up the building unless the owner pays a ransom. Suffice it to say the stakes of this are a lot higher than I originally thought.
Also turns out the Pelham 123 reference is meant to be explicit. Remington explains the whole plot of the movie to the other hostages and describes how the Santas are riffing on it.
Remington's big plan is to get the podiatrist to fake going to the bathroom while actually setting a fire in there. Meanwhile, he tries to get one Santa, who has been expressing doubts about the hostage situation, to break. In the midst of this, the landlord and the cops show up.
The Santas allow Remington to speak with the authorities privately in the hall just outside the office's glass door main entrance–wait seriously? NO WAY would they actually do that…but okay…Remington tells the cops to allow Blitzen through when he arrives. He's too worried the other Santas will get spastic without him. And he's right to worry, because while he tries to negotiate with the landlord for the hostage money, a whole kerfuffle happens in the office. Shots are fired. But thankfully no is hurt.
When Blitzen finally shows, the Santas are super relieved to see him. And in a plot twist I truly did not see coming — it isn't really Blitzen. It's the SANTA THE AGENCY HIRED and he is TRASHED. He is truly drunk as a skunk. That does explain the whole lateness thing.
Per Blitzen's instructions, they pick the seemingly most unhinged hostage to transport the money: The Plant Lady. But she doesn't come back with the money…so they go through her bag and find a recording device with Blitzen's voice giving the instructions. It turns out SHE'S BLITZEN. Okay, that's kinda cool and unexpected. It does feel like a bit of a plot hole that she was able to sneak off and play this tape into a 1980s satellite phone or whatever — without anyone noticing — but idk maybe she also employed the bathroom fake-out trick.
Plant Lady/Blitzen tries to make off with the money. She heads into a store room and changes into a cop costume (once again, undetected). But now the Santas are obviously pissed at being double crossed. Luckily, Doris Roberts saves the day with a hot pot of coffee to the face and a gun that presumably has ammunition.
Remington and Laura rush downstairs where they just announce their identities to the cops, who let them through what is supposed to be a sealed-off building. They hop on an unattended police motorcycle and chase Plant Lady–who is fleeing on another police motorcycle. Laura jumps off the back of their bike and onto the Plant Lady's bike, causing her to crash into a Christmas Tree lot. Their fall is cushioned by all the fake snow and then Laura overpowers her to recover the cash.
Would i seek out more Remington Steele episodes? Probably not. But Pierce was dreamyyyy and I love Doris Roberts. I also like that the lady who supplied the office with plants was also a plant. Who doesn't love a deep pun? All in all, not a bad watch.
To view the other blogathon participants and their entries, please click the image below:
Hope to see you on Sunday for the start of A Very Special Holiday Season!