In the final installment of Very Special Summer, we travel back to Eastland where Blair Warner has an unexpected visitor. Blair has won the Eastland Fine Arts Award for the third year in a row. Apparently, she's an excellent artist–even though we have never seen her work. But she's very anxious about her celebration dinner because her cousin Geri is in town for a comedy show and decides to pay Blair a visit.
Blair is super weird about introducing her to her friends because Geri has Cerebral Palsy. Geri is super chill about answering all of the girls' questions (since apparently they go to prep school but have never taken science), but Blair is obviously uncomfortable and tells them to stop bothering her cousin. Geri says, "Questions don't hurt. Ignorance does." And then the studio audience applauds because this is The Facts of Life and this is the kind of shit we tune in to hear!
It doesn't take long for the other girls to realize that Blair is in a bad mood because her cousin is visiting, and they call confront her for being so rude. Jo is particularly scathing and says that Blair is "just upset because their's a Warner out there who isn't perfect." It's obviously not the case, and this blatant jerk-ness was part of what made me not like Jo when she first started on the series. Mrs. Garrett tries to get Blair to admit that she is embarrassed by Geri, but Blair denies that this is the case.
In fact, it turns out that Blair is jealous of Geri. "With her here on my night, at my school, with my friends, everything I've worked for just seems so silly," she says. I mean like woah. I think I could maybe understand where Blair is coming from if she wasn't already super spoiled and like always the center of attention. Plus, like who gives a crap if large family gatherings focus more on Geri? It's not like Bliar and Geri are siblings and Blair is like neglected  in favor of Geri or something. I feel like being jealous of Geri is just some able-bodied privilege that really disturbs me. But Mrs. Garrett is obviously a lot more understanding than I am and tells Blair that she shouldn't feel guilty because she's just being "human."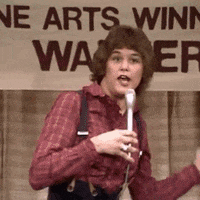 Blair doesn't even show up to her celebration dinner–where Geri is also performing. She arrives late in the middle of Geri's performance (which just happens to be at the portion that Geri is hoping to perform with Blair like when they were kids). And then Blair stops the act and says "Hey, did you here about the girl who never told her cousin how great she is?" And Geri is all like what…no…? Tell me… And Blair is all like, "I never told you this before, but I think you're terrific." And then like dammit in spite of myself I teared up!
Blair really was a snot, but this was what made her so cool in the first couple of seasons of this show. As disgusting as her behavior was, it's probably a pretty realistic portray of even the "ugly" feelings that we humans sometimes possess and don't like to admit to. And she ended up genuinely doing the right thing at the end. I guess maybe she'll still be a little jealous at Thanksgiving, but that's not Geri's fault and having a good relationship with her should maybe make that a little easier.
Very Special Lesson: If you show up late to your awards banquet, then you'd better put on a pretty good show to make up for it.