After Mary struggles with insomnia three times in one week, so goes to a doctor who gives her a magic little pill that makes everything better. Lou is immediately concerned that she's in some kind of Valley of the Dolls situation. She tells him it's really none of his business, so he tells her that it is work related because he's putting together a documentary "on the dangers of sleeping pills."
Mary reassures Lou that she isn't addicted and that she's taken them for fourteen consecutive days without issues. Lou challenges her to try to go one night without taking them (because he's damn sure she is addicted). I mean wow what a strange way to handle a health concern with your subordinate.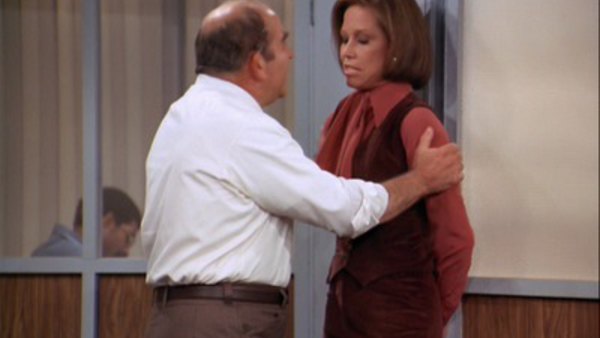 That night Mary tosses and turns. She finally breaks down and takes a pill. But she feels pretty crappy about this because it proves that Lou is right that she is, at the very least, reliant on the pills. The next morning, Mary lies to Lou and says she didn't take the pill. So he heaps praise on her…until she finally admits she took the pill as he suspected all along.
According to Lou, getting over insomnia is easy. He says, "All that you have to do is make yourself go to sleep at night." Oh boy, if only someone had told me this in my mid-twenties. Could have saved me a lot of sleepless nights!
Lou urges Mary to skip the pill that night and promises to come over if she needs support. When he doesn't hear from her, he goes over to her apartment, and the super just straight up lets him into her place. When Lou enters Mary's apartment, he notices the phone is off the hook. Fearing the worst, he frantically searches for her presumably lifeless corpse. But she's really just in the bath, reading a book and drinking some milk. Yikes.
Mary is understandably upset that Lou is in her bathroom. But he gets offended because he was only worried about her and he isn't a pervert, he just insists that she is a dope fiend. So my GOD there is NO reason to be OFFENDED. WJM should be counting their lucky stars it's the 70's and they don't have an HR department because this justifiable lawsuit would surely put them under.
Murray barges, quickly followed by Ted (who is as oblivious as Lou). Murray at least has the decency to turn around and face the wall. Murray and Ted leave but Lou stays behind to make sure that Mary doesn't take a sleeping pill. She's understandably a bit agitated and tries to sneak pill behind his back. So he puts them down the garbage disposal.
Lou wraps Mary in an afgan, sits her down on the couch, and puts his harm around her. He tells her to breathe deeply and pretend she is asleep. He then says he will sing to her just as he used to sing all of his children to sleep. I'm having a full on panic attack at the thought of being in this situation, so I'm not sure how Mary is feeling. For the record, Ed Asner has a pretty decent voice though.
Against all odds, this actually works. Incidentally, this is the first time that Mary Richards, a woman in her late-thirties, has had anyone tell her that she snores. It's never too late for some good old fashioned self-discovery.
Very Special Episode: Evidently, the cure for insomnia is an Ed Asner a capella album of Irish lullabies and a warm afgan blanket. For best results, exhaust yourself beforehand by moving into a building whose super will gladly let all of your coworkers into your bathroom without your permission.