Look, I get it. We're all dressing for comfort right now. But if you're vaxxed and looking to actually go out for Halloween this year (!!!) then please look no further than your own closet for a costume. Suggestions below:
Drew Barrymore (Casey) in Scream
Now, if you already have a blonde bob then you're 25% done with this costume. If however, you need to purchase a wig, you may do so at Forever 21 for $7.99. I don't usually encourage fast fashion, so please do try to wear this wig more than once — preferably several times over the course of many years. You'll also need an off-white (or, hell, who cares you can use white too) cable knit sweater. This is great going into the cold weather months. You're going to want to wear this again and again. If you don't already have one, you can grab one at Stitch Fix for $58. Next, get some loose fitting light-wash jeans. If you buy them from Madewell, you can send them back to be recycled and the company will give you a credit on future jeans. The white cordless phone is, evidently, now a collectors item for something like $200 on ebay. But this shit is so boxy, I suggest you get your craft on and make one out of a white paper box.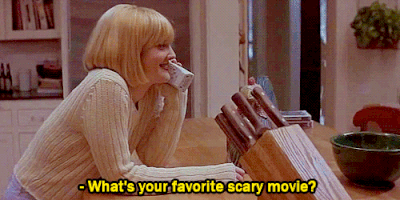 Sigourney Weaver (Dana) in Ghostbusters
Now technically this dress should be crewneck, but as long as you're wearing a gray sweater dress of some sort, I think we can be flexible with the neckline. You'll also need a purple plaid scarf and a black belt (not in karate but if that is all you have in your closet then definitely just tie that around the dress and call it a day). Now I have scoured the internet and I cannot find Dana's exact scarf, so use your best approximation. The belt and the dress are both from Gap and I'm sure there's some kind of discount code you can apply to make them a little easier on your wallet.
Patrick Swayze (Sam) in Ghost
Toss on that red shirt you're no longer wearing to the office and pair it with some black jeans. Now you're Patrick Swayze! Wear black shoes if you have them, but it doesn't really matter. No one is going to be looking at your feet.
Penny Marshall (The Devil's Wife) in Hocus Pocus
This requires jammies, a robe, and some of those hair curlers that kind of look like snakes. The robe below is from LL Bean so look at is as an investment item, or just wear any old robe because to be fair the one below doesn't match the pattern in the movie anyway. You can get mint green PJs on sale at Madewell for $34.99. Finally, fill up a glass with whisky or tea and put on a real grouchy face like your husband is flirting with a bunch of strange women who are way too old to be trick-or-treating and keep calling him "master." Oh and the hair rollers are $14.99 at Target.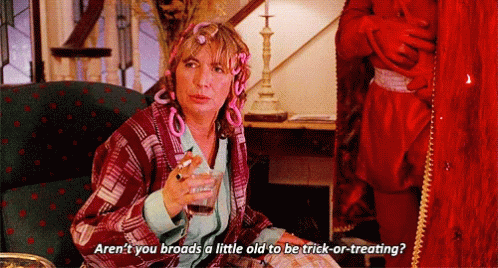 Multiple Options Using Athleisure
I've seen a lot of Squid Game costume suggestions floating around here on the internet, which is great. But maybe you don't own a green tracksuit. Maybe your tracksuit is black, pink or red. Here are a few options for you. It's also okay to pair a red sweatshirt and yellow shorts and pretend it's 2008 and you're dressed as Paulie Bleeker. It's okay in 2021. It's all okay.
A lot of these will depend on whether or not you're dressing up as a group. For example, if you all have green tracksuits, then you should probably go as Squid Game players. But if you're dressing up solo, then you should opt for Old Biff Tannen from Back to the Future. Margarita Glasses are optional for the Cool Mom from Mean Girls. The red tracksuits from Royal Tennenbaums also work for a group. But a plain black tracksuit (with or without gold medallion) will work best as Christopher from The Sopranos.
Literally anyone from the 80s or early 90s
Scrunchies are back. LEAN INTO IT. You don't want to stop wearing leggings? PUT THEM ON. Got a giant ass sweatshirt that is way too big for you? Congratulations, you're on your way to Jazzercise. Ditch the scrunchie and put on a pair of heels if you want to be Jennifer Beals in Flashdance.
Mare of Easttown
There are so many good options here. You really just need some thick sweaters, blue or brown outerwear, and a low ponytail. Gauze/Ace bandage on your arm are optional. Please don't vape. Thank you.
Baby-Sitters Club Member
This one is super flexible in terms of costume. You can dress up as a group or you can dress up solo as your favorite club member. You can style it old school or you can be the more modern reboot version. But here's where the magic comes in. Worried about your mid-late (idk what phase we're in) pandemic social anxiety is getting the best of you? Don't worry about it. You're packing a Kid Kit. And Everyone loves a coloring book. Now you're the life of the party. You're welcome.