Happy Halloween, Very Special Readers! I'm so excited to tell you all about one of my favorite TV movies: Tower of Terror. Originally aired on The Wonderful World of Disney in 1997, the film stars Steve Guttenberg, Kirsten Dunst, Melora Hardin, Nia Peeples, and Lindsay Ridgeway (a.k.a the second Morgan on Boy Meets World.)
This film also has the distinction of being the first of its kind in the "based-on-a-ride" series that Disney would explore with the wildly successful Pirate of the Caribbean, the much maligned Haunted Mansion, and more recently, Jungle Cruise. Filmed partially on-location at the theme park ride, the plot of the film draws its inspiration from the opening reel that riders see at the attraction before making their own journey into the fateful elevator! You can check out a making of for the theme park reel below:
Okay, now back to the movie. Miraculously, this film is available for you to watch on YouTube in its entirety. It scared the crap out of me as an elementary school kid, but I'm happy to say that I'm a lot braver in my thirties.
But I will say that the heroes of this film are like a little more dark than child-me realized. They're grifters. Steve Guttenberg's character, Buzzy, is a photographer who sells stages pictures of supernatural phenomenon to tabloids and his niece, Anna (Kirsten Dunst) helps him. She questions whether he ever wants to engage in legit journalism and he counters by telling her that the truth doesn't matter. And, speaking from post-Trump America, feels bleak and prescient.
There's also some underdeveloped romance plot where we're not sure if Steve misses his ex-girlfriend (Nia Peeples) or just misses working at a legit paper. Was she his boss? Unclear.
Things turn spooky when a mysterious visitor shows up at Buzzy's house — an old lady says she she lived in the Hollywood Tower Hotel when a child star disappeared in an elevator back in 1939 and KNOWS THE TRUE STORY.
If I didn't get you with DISAPPEARED IN AN ELEVATOR then you should stop reading now because you're definitely not going to be interested in this post.
Furthermore, this old woman shares that she saw Mrs. Partridge, who was the nanny of Sally Shine (a child actress knock-off of Shirley Temple played by the second Morgan from Boy Meets World), cast a black magic spell that made an entire elevator full of people disappear.
She insists that he take her very old set of keys and break into this very abandoned hotel — and look for a BOOK OF SOULS that will prove Mrs. Partridge was an evil witch.
Luckily, Buzzy's career is in the crapper so he kind of has to take her up on this offer.
Buzzy goes to the hotel where he bribes the caretaker, a descendent of one of the missing elevator inhabitants, to show him around. The bellhop was the son of the hotel's builder and, as such, he left it in his will that the property must remain closed until someone solves the mystery.
After something like two solid minutes of exploring the set and getting you all excited to go to the theme park — Buzzy does indeed find the book of souls. As Buzzy leaves the building, Mrs Partridge STICKS HER GHOSTLY HEAD OUT OF A MIRROR AND HE DOES NOT EVEN SEE IT. What kind of ghost detective are you even, Buzzy?
Anyway, he decides to stage a photo because that's all he knows how to do. So he makes his fifteen year old niece dress up like this ten year old child star and, yes, it is as awkward as it sounds. He also hires a woman from an acting agency (Melora Hardin) to play Mrs. Partridge but the woman who shows up is wayyyy too young and also suspiciously accurate at appearing to be from the 1930s.
Before we have too much time to wonder if this actress is actually a ghost, we're lured away by the sounds of ethereal music and the sounds of kitchen staff preparing for the big party in 1939. This quickly transitions to the spooky rendition of "It's Raining, It's Pouring" that you'll have heard on the Tower of Terror ride if you've ever been. Buzzy and Anna then see a child's ghost singing. And Buzzy is like, yeah, this is good stuff I can go ahead and pitch it to my ex-girlfriend at the newspaper. Spoiler alert: this goes poorly.
Meanwhile, Anna and his source are discussing how the spell trapped everyone in the elevator. Their theory is that Mrs. Partridge only had an identifier for one person in the elevator (a lock of Sally's hair) and because she didn't have anything for the other passengers, they were all trapped in limbo in the hotel — rather than Sally just straight up being murdered which was the original intention of this spell and OMG THIS IS DARK FOR A KID'S TV MOVIE.
Anyway, they decide that if they can bring everyone back by finding their identifier items within the hotel. Buzzy is all excited that brining people back from another dimension will reinvigorate his career and Melora Hardin's character gets all offended that he doesn't really care about the ghosts — of which she clearly is one.
While Buzzy and one of the ghosts discuss ethics in the garden, the other adult ghosts are threatening Anna's life inside the hotel. She tells them she only wants to help, but they tell her to get lost. Then the little girl ghost appears and asks Anna to please fix the elevator as if she were some kind of antique Otis repairman instead of a fifteen year old girl from 1997.
But somehow this does, in fact, become the plan. As they find the last of the identifiers (the actress ghost's locket…that contains a photo of…herself…), the ghosts reveal themselves to Buzzy and Anna and ask that they leave them alone because they don't want people to find out about them lest they be treated like zoo animals. To which, I only ask, how is this in the Hollywood Hills and no one has ever broken in and already taken all this vintage expensive shit? But no, it's all just sitting there and the ghosts are like please don't mention that we're here to anyone, thank you.
So anyway Buzzy and Anna convince the caretaker, who knows nothing about antique elevators, to try to fix this broken down thing so the passengers can finally get to the twelfth floor to attend this party that ended six decades earlier.
Meanwhile, Buzzy's ex ran a background check on his source after their conversation at the paper. It turns out that his source is actually Sally Shine's big sister. She's been in a mental institution since 1940 and she has a beheaded doll of her little sister plus a lot of creepily desecrated photos. Once again. Super creepy for a kid's movie. BUT it is a story. However, Buzzy has already promised the ghosts that he will help them fix the elevator.
Anna loses all respect for Buzzy. Honestly, it was amazing she ever had any to begin with.
The caretaker doesn't want to go into the hotel without Buzzy, but Anna, the true hero of this film, pressures him into it.
This is, however, a Disney movie. So Buzzy grows a heart at the last possible moment. And also realizes that he gave Sally's sister exactly what she wanted — the book of souls. You see, all she really wanted was to make the elevator crash cause she was soooo jealousssss of Sally. And she's so hellbent on completing the task that she's trying again decades later. SO DARK FOR A KID'S MOVIE.
Anna catches her setting the spell and tries to stop the elevator. She pushes little Sally out of the doorway (which in the weird world of this movie works even though Sally is a ghost) and enters the elevator herself. But the ghost bellhop can't control he elevator because it is overpowered by the spell.
As Buzzy tries to bargain with Sally's sister, ghost Sally (not in the elevator, of course) overhears her sister talking major shit. Of course, she doesn't recognize her because she's old now. But Buzzy asks Sally what she'd say to her sister if she could. And Sally says she would apologize for not making it to her BIRTHDAY PARTY.
Tragically, Sally shares that she loves her sister — who she describes as her best friend — oh my GOD this is way worse as an adult. As a kid I was like "awww see there's enough love to go around in this fam!" and as an adult I'm like "YOUR BEST FRIEND/SISTER TRIED TO KILL YOU AND IS STILL TRYING."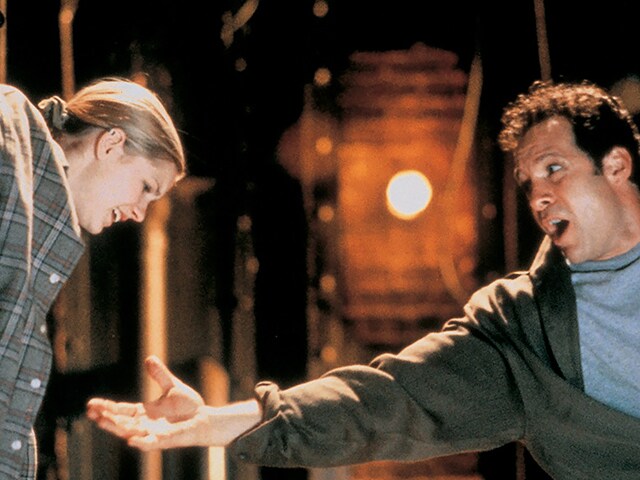 The good news is: Sally's sister profusely apologizes. The bad news is: she doesn't know how to stop the spell. So Buzzy tries to reach Anna through the escape hatch of the passenger elevator — begging her to extend herself over the 12-story elevator shaft to where he is on the freight elevator. He grabs her just before BOTH elevators begin to drop.
Thankfully, Sally Shine forgives her sister for attempted murder and this reverses the curse.
We then see the passengers (and Buzzy, Anna, the ex-girlfriend, and the caretaker) all attend the long overdue party where we see the passengers reunite with their families and disintegrate into fairy dust — which is probably the only reason this movie didn't haunt my dreams and cause permanent emotional scaring. A little fairy dust makes a dark movie a happy memory!
Very Special Halloween Lesson: Family therapy for everyone! Also these movie characters would make for a really great group costume.
If you liked the movie, here's some more stuff about it:
A park visitor has noted the filming locations seen in the 1997 movie:
Scarlet Johanssen was scheduled to produce a remake and for a minute with the Black Widow dispute it seemed like it wouldn't happen…but Screen Rant says it's still in the works!
And here's a 20-min short documentary on the ride. Check the amazing props! TW: Kirk Cameron