I never know quite how to feel about Charlie's Angels. On the one hand, the premise is that these bright, capable women were pigeon-holed into menial tasks at their jobs based on systemic bias against their gender. After Charlie "took them away from all that," they're given complicated jobs where they use their keen intellect, physical training, and ability to think on their feet to catch high-powered criminals — largely flying under the radar because they are women. So in terms of subverting traditional expectations in the 1970s — hell yeah!
On the other hand, the show is 150% shot from the male gaze — Charlie only surrounds himself with hot babes after all — which puts one hell of a damper on everything I mentioned above. At the end of the day, I still love all of the actresses on this show and the sophisticated characters they created. And I hope that in the late-70's that the men and boys who tuned in solely to check out the eye candy, left feeling like women were smart, competent, and good in a crisis.
I think a lot of men and women also tuned in not just for the eye candy. I happen to be one of them. And hey, I'm not against eye candy. I'm simply grateful to live in a time where people are slowly but surely becoming more thoughtful about how we all enjoy each others bodies. Okay, so that's probably enough of a disclaimer about the series! I'm sure there are many scholarly articles you could find if you want to delve further into the contradictory themes around this show. But my feelings about the angels are largely positive, so let's get to the episode!
Side note: I have a vague memory of seeing this episode in reruns as an eleven year old and it scaring the shit out of me, so this should be a fun trip down memory lane.
Fun Fact: This episode aired 42 years ago today!
We open with an ESP test at "The Rossmore Institute for Psychic Research." Dr. Holden, the researcher in charge of the study warns that they are not using the scientific method for this study, so his reputation is at stake. (Well duh of course it is. It's not a research study then. You're just playing science! Ugh okay, sorry.) Anyway, there was some kind of "disruption" when they ran the study the previous night, so they've brought in Ms. Rossmore to observe the study.
A woman with long platinum hair and an all white dress is participating in a telepathic experiment — okay, I think this is what scared me immediately as a child. And no, I don't have a lifelong fear of telepathy or blondes. It's that she looks like the spooky girl from Watcher in the Woods.
Anyway, the blond woman gets possessed by an ethereal male voice, who speaks directly to Mrs. Rossmore. She recognizes the voice of that of her dead nephew and gets, understandably, freaked out. Luckily, she's Bosley's bridge partner so she has a direct line to the Angels.
Mrs. Rossmore describes her nephew Martin's fatal motorcycle accident for the Angels and everything seems pretty straight-forward — except for the psychic possession. Bosley thinks that it's junk science, but Mrs. Rossmore believes it's real. She created the entire institute in order to reach out to Martin. So it sounds mostly like she's there because Bosley is concerned…cause like honestly it sounds like this lady got what she was looking for.
It turns out she's really just asking for the Angels to prove she's right and reassure Bosley, so they can continue to play bridge in peace. The whole situation is even more suspicious because ghost-Martin suddenly appeared after Mrs. Rossmore threatened to cut off payment to the study (cause they weren't getting any results). Anyway, the Angels will be going undercover at the institute: Kris as a researcher and Sabrina as the subject of her research. (Stay tuned for what Kelly's job in all this is, I guess?)
As they drive onto the grounds, Sabrina tells Kris to stop the car. She points out the tree that Martin crashed into (yikes, that's macabre). On a lighter note, let's look at Kris's great researcher outfit. Love the neutrals and big glasses.
In order to prove that she has a "special gift," Sabrina tells Dr. Holden that she "senses" someone was killed on the grounds. He is immediately impressed. You know, cause there's absolutely no way she could have gotten that information in any other way.
To further legitimatize her psychic abilities, Sabrina alerts Dr. Holden that he is about to receive a phone call. It turns out to be Mrs. Rossmore, which makes him trust Sabrina as he believes that she could have coordinated the call with someone else but not Mrs. Rossmore. (Surprise, surprise, she did coordinate it with Mrs. Rossmore.)
Now that they've proved their legitimacy, the Angels are able to watch the next experiment in person. But this time Martin doesn't posses the blonde woman. Instead he's just a disembodied voice that yells at her. It's spooky. He also appears to attack her because they next thing you know, she's flying out of the chair. But it's hard to say for sure because we cannot see Martin, of course. Oh but wait…okay…she's dead. All right, the stakes of this investigation are higher now. Martin is spooky spooky spooky. And also now this is a locked room mystery, guys!!!!
Meanwhile back at the office, Kelly reveals that they dead woman (Kathy) was using a fake last name at the institute. She agrees to investigate her while Bosley finds out everything he can about Martin.
Sabrina and Kris work out a special code, so they can prove to Dr. Holden that Sabrina should participate in the study. She selects enough of the right "ESP cards" (usually the same one that Kris has selected but not always) in order to prove she has psychic abilities but not enough to show that they're operating off of a code — what??? I don't know anything about this ESP research stuff, but it would seem like either you have ESP or you don't. Am I supposed to believe there is a faulty connection between cards sometimes? Well anyway, it's enough to convince Dr. Holden that they Sabrina can be part of the study.
Cut to: Kelly investigating Kathy. She's not undercover so she can just be herself and poke around and ask directly about Kathy's background. Kelly goes to the set of a television show and speaks to a man named Peter, who is also a psychic and previously worked with Kathy. She learns from Peter that Dr. Holden is a skeptic who may not really believe in ESP.
Back at the institute, one of the research subjects has taken an interest in Kris. They take a walk on the grounds and he talks about the heavy emotional weight of having ESP. Every object he touches is embedded with memory and feelings and ugh it sounds horrible. He touches Kris's arm and gets a vision of her at the police academy. OMG!!!!
Kelly continues to search for the truth about Kathy and in the process uncovers her grandmother. She owns an antique store and does not approve of Kathy's interest in the paranormal. She also reveals that Martin was Kathy's boyfriend!!!! Suddenly there is a spooky rattling in the shop. A mirrors crack, things fall off the wall, and the television explodes!
It's like an earthquake almost, but Kelly is sure that it wasn't. She hypothesizes that Kathy was a true believer, but Bosley suggest she might have simply been part of a plan to swindle Mrs. Rossmore. They all agree that someone must have double-crossed her…but it's still a locked room mystery so no movement on who or how.
Kris tells everyone about her interaction with the man who had a vision of her at the academy. Kelly points out that he wasn't around when Kathy was murdered…so maybe he's the murderer? But there's not enough to go on yet, so Bosley continues to dig into Martin's past.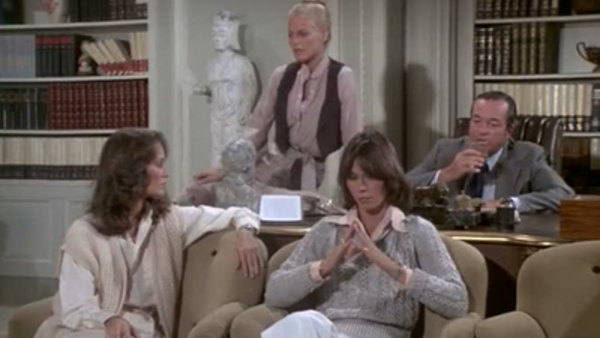 This includes learning that Martin may have set fire to a bunch of church choir robes because some other boys made fun of him when his voice changed. He may have also tried to drown a girl at a picnic as a child because they were fighting over a sandwich. This is really starting to sound like The Bad Seed.
Bosley finds over a dozen people that paint a pretty damning picture of Martin and his lack of moral compass. But Mrs. Rossmore still refuses to believe that he was a piece of shit. She sentimentally plays Bosley some of the casette tapes he used to send her with life updates from college (because he didn't like writing letters). We then come to learn that Martin dropped of out college and used his tuition money to buy his motorcycle. Mrs. Rossmore argued with him over this, which was right before his accident. Mrs. Rossmore blames herself for his death.
Bosley convinces her to run the experiment again so that they can hopefully determine how Kathy was murdered. Mrs. Rossmore asks the psychic that Kelly met with earlier to run the experiment with Sabrina. He's reluctant but Mrs. Rossmore insists because she is "stubborn as old ketchup," which is apparently a phrase some people used at one point in time.
Everyone is confined to their rooms at the institute prior to the experiment. Kelly gets assigned to Martin's old room. And Kris's ESP crush comes to visit her in her room. ~ooooooh~
He tries to warn Kris to abandon the experiment. He says that he knows she and Sabrina are fakes and he doesn't believe that Martin is a ghost. He's afraid something bad will happen and thinks they should call the experiment off before anyone else gets killed.
In Kelly's/Martin's room the glasses on the bedside table start shaking just like everything in the antique shop did earlier. Kelly breaks the "stay in your room" rule to go find Kris. The both go to Sabrina's room, but she there. Peering out the window, they see a motorcycle racing through the grounds.
It turns out Sabrina isn't in her room because she's busy searching the house. In the basement she finds a bunch of electrical wires rigged up to a sound system.
Meanwhile, Kelly and Kris find Bosley and tell him that Sabrina isn't in her room. While outside of Bosley's room they all hear Martin's ethereal voice again (which we know is Sabrina messing with the sound system).
Cut to: a very confused, Bosley, Kris, and Kelly in the viewing area of the experiment room. Sabrina speaks to them from a booth and tells them she knows how the murder was committed.
Surprise! She's actually right behind them! The Sabrina in the booth is actually a video recording! Sabrina has deduced that Kathy and Peter were working together when Peter double-crossed her by playing a pre-recorded version of his part of the scam, so he could sneak off and kill her during the experiment. Remember earlier how I said she flew out of her chair? She probably saw Peter at the door tried to run out and away from him to no avail.
While Sabrina waits for Peter to start the experiment, we seem him pull this same trick again. He accesses a hidden compartment in his booth and initiates the tape recording via remote control. He has also hidden a buzzer in this same compartment, which unlocks the door to both his booth and the adjoining booth (formerly Kathy's and now Sabrina's). Moments later he has Sabrina held hostage at gun point.
But it's Sabrina we're talking about here, so she manages to beat the shit out of him even though he's armed. He takes off running and winds up pinned against the very tree Martin hit because the ghost motorcycle is back and headed straight for him! Hello 1970s version of the Headless Horseman!
This gives Sabrina and the other angels time to chase him down. And as it turns out, it's Bosley who is riding the motorcycle. He found it stashed on the grounds during all the commotion. Peter was presumably the man riding it earlier, which explains why he didn't hear the recording Sabrina was playing earlier in the evening. If he had been in the house, he would probably have gotten out of there before even running the "experiment."
Back at the office, the Angels discuss how everything was a scheme for Peter to take over the institute. Bosley says that ESP is all a fraud, but Kris's ESP friend is there (probably cause he loveeees her) and shares a secret of Bosley's that no one else knows. So I guess it is legit after all! (Or Kris's new friend is a creepy stalker. Yikes!)
Anyway, I have to say I loved this episode so freaking much. Solid 10/10. And I'd say it's actually an episode that subverts a lot of the trope issues I have with other episodes. This felt like a spooky, grown up Nancy Drew and The Ghost of Blackwood Hall and it was fabulous.
Very Special Halloween Lesson: Truly what I learned here is that I need more pantsuits. But also that I would probably never lock myself in an adjoining room with that of a known murderer.