Sabrina's a senior in high school in this episode and has decided she's too old for pranks and trick-or-treating. So she gets a job at a coffee shop and decides to work there instead of celebrating Halloween. Um. Okay. I mean kind of an extreme reaction to not wanting to collect candy door to door but always good to build that résumé I suppose!
Meanwhile her aunts are fully into celebrating the holiday, so they conjure up Edgar Allen Poe for Halloween dinner. You know what I very much love? The idea of a formal Halloween dinner with special guests. Add that to my post-quarantine to do list please!
Sabrina's aunts warn her that witches "can't run away from Halloween," but she ignores them and works at the coffee shop (alone) anyway. As it turns out, not being able to run away involves having what amounts to a low-key psychotic episode. So you know…idk I would probably just go to Halloween dinner if I were here…
But anyway Sabrina tries to push through the hallucinations, which include "hearing" a customer say, "I want to chop you up in little pieces," (!!!) when he's really just ordering a cup of coffee. And don't worry, the worst thing that happens with that dude is she serves him coffee that is so strong it tastes like mud.
When the coffee shop gets too crowded for Sabrina to handle on her own, she starts whipping up lattes using magic. Cut to: zombies in the alleyway.
Now I'm not saying that Sabrina's use of coffee shop magic caused the zombie apocalypse, but the show's editing is leading me down that road of logic. And then a giant storm appears and the power goes out!
Sabrina tries a spell to get the zombies to go away, but it doesn't work. Meanwhile, Edgar is really enjoying Aunt Hilda and Aunt Zelda's cooking. When Sabrina calls home for help, they're too busy chatting to talk to her, so she's only able to ask Salem for advice. He explains that witches who run from Halloween get chased by Halloween. Yikes!
The zombies eventually break into the coffee shop, but it turns out they don't want to eat human (or witch) flesh. They just want to dance!! We are then treated to — I kid you not — a 90 second montage of terrible dancing with even worse stock music.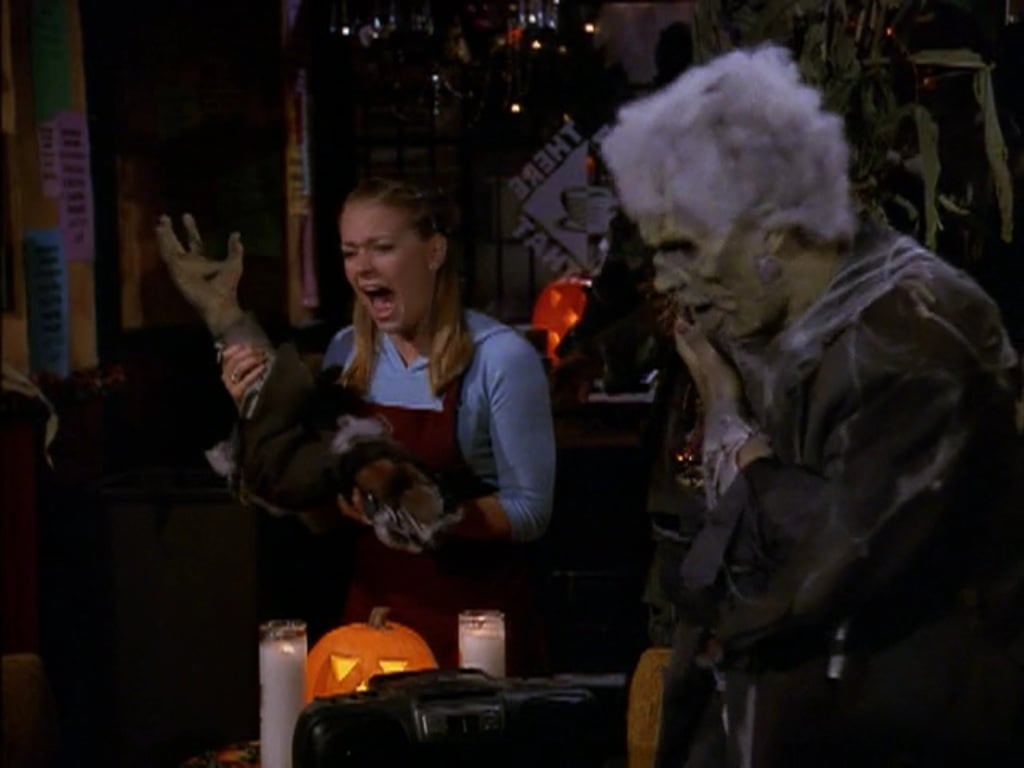 Finally in the last four minutes of the episode, Sabrina realizes that the only way to make the zombies go away is to celebrate Halloween. She calls out to her boyfriend Harvey, who is across the street TP'ing the Christine Science Reading room, and tells him to come over and prank the coffee shop instead. We are then treated to another montage — this time 20 seconds of toilet-papering zombies.
Things aren't much better back at the house. Edgar Allen Poe has decided to read a tepid romance. He's branching out from horror! But it's dull and totally not the Halloween experience the aunts were looking for. Luckily, Salem has somehow managed to write short stories without the use of opposable thumbs and reads some of his own scary stories to the group. They're so spooky that they even make Edgar Allen Poe's hair stand on end. (Too bad we spent so long on the zombie dance montage because we don't get to hear any of the stories in their entirety.)
Very Special Halloween Lesson: Property destruction is the only way to stave off the zombie apocalypse? Don't worry, Salem actually lists a couple of his own very special lessons during the credits, so I've got some better options to share with you than that one:
"Try as you may, you cannot run away from Halloween."
"You never really know what lurks beneath your neighborhood sewer grate."