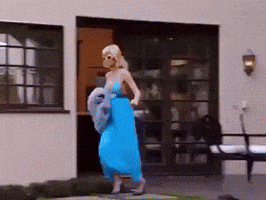 I recently rewatched Sofia Coppola's The Bling Ring. Days later, I'm still thinking about it. So obviously I had to rush right over to the episode of The Golden Girls where the girls arrive home late after a Madonna concert and find that their house has been robbed.
It's very interesting to see how differently each of the girls respond to the break-in. Dorothy responds by mis-quoting Dirty Harry in a loud voice (to threaten any lingering robbers). Sophia is utterly unafraid because she is old and "bathtubs are dangerous." Blanche frantically searches the house for any missing expensive item. And Rose freaks the f**k out.
I'm reading a book called Chatter by Ethan Kross and I would definitely say Rose has been overtaken by chatter in this episode. She purchases a guard dog (even though she is afraid of big dogs). She purchases mace (which Blanche borrows when she mistakes it for hairspray…that doesn't end well.)
When Rose comes home one day with a gun, Dorothy urges her to see a therapist. The girls decide to go as a group and they all feel better except for Rose. Things get so bad that Rose sleeps during the day and stays up all night.
One night as Rose lies awake in the darkness, she hears a disturbance at the front door. With their new alarm system wailing, Rose takes a shot. And thank God she's a horrible shot because she almost killed Blanche's date but luckily killed her vase instead. (Interestingly enough there is a big continuity error with the vase because it reappears fully intact in subsequent episodes.)
Things continue to escalate when Rose is in a parking deck and knees a parking attendant who chased her down to return her keys. To be fair, this guy should have yelled out something more informative than "hey lady" while in hot pursuit of an old woman, so I can't really blame Rose for going for the "safe deposit box," as she calls it. Anyway, this all somehow makes Rose feel better and in control of her life again.
Very Special Lesson: Losing your sense of reality and kneeing an innocent person in the family jewels will somehow help you regain your sense of power in the world –wait what? No, no, no. That's not right. Buying a gun and shooting a vase will…no, sorry that's not it either…um…when something traumatic happens and you find yourself stuck in a constant thought spiral, get a good therapist who helps you work through difficult emotions with strategic interventions that support healthy cognitive functioning. Yes, that's the one. Third time's the charm.
Want to spend a little more time with this episode? Check out the "Fudge, Yarn, & Gun" episode from Enough Wicker.