This movie is great if you don't think about the plot. At all. Just don't think about the plot at all!
I mostly succeeded in doing this until a giantttt glaring hole presented itself near the film's climax. In which, Keanu Reeves's Johnny Utah, having already blown his cover by pursuing his friend-turned-bank-robber-perps in his plain clothes and normal ass face, some how decides to still join them on a sky-dive in order to — what — not blow his cover? — wtf I don't know. That's the point where I could no longer make the movie make sense at all.
However, I will say it's so, so nice to see Patrick Swayze playing against type and killing it. (Also has his hair ever looked better?) Furthermore, this was Keanu's first action movie for which I think we can all count ourselves eternally grateful.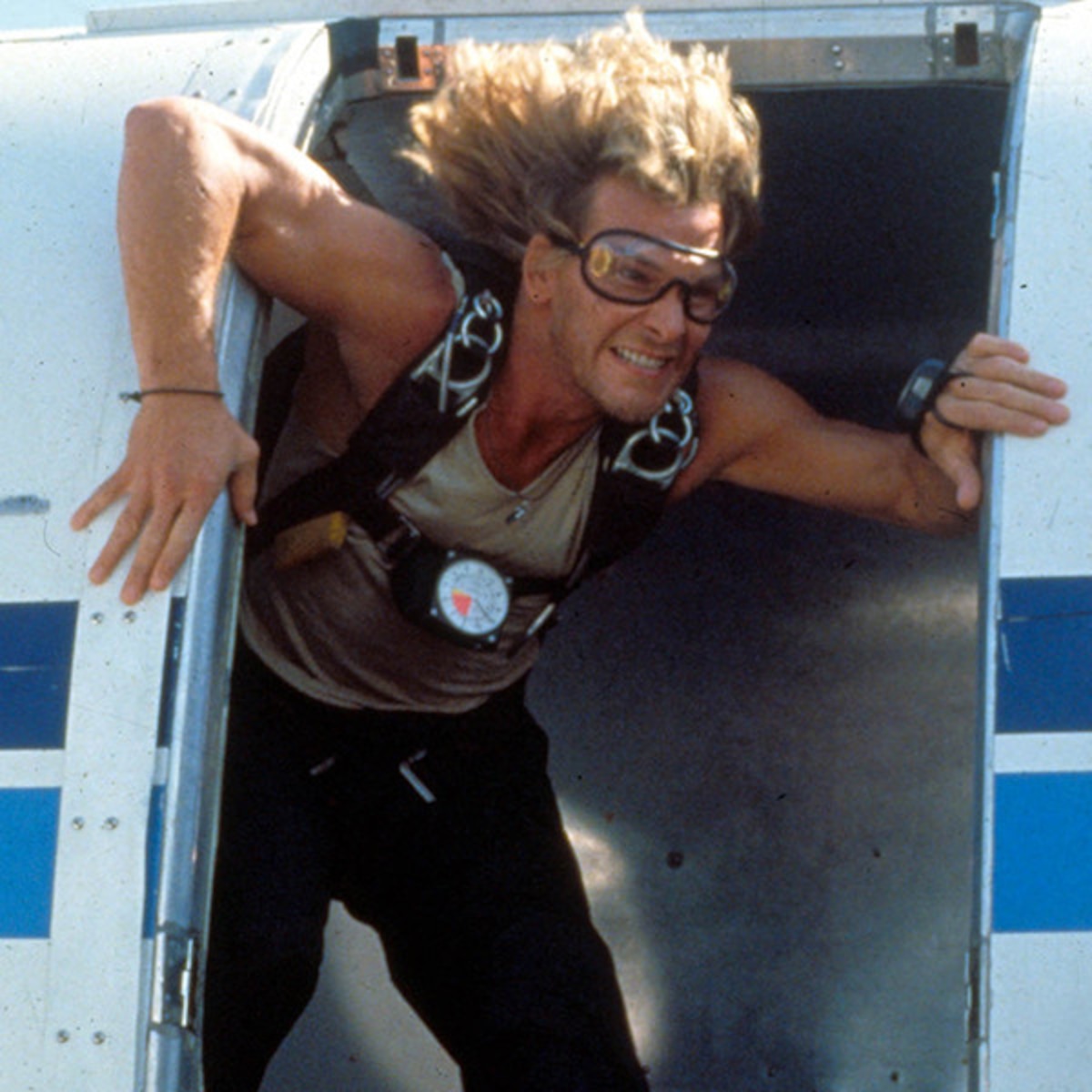 Plus, let's be honest, this movie is all about the vibes, not the plot. It introduced me to this really great early Sheryl Crowe song and reminded me that I find Lori Petty absolutely charming. I also very much enjoyed Patrick Swayze's performance. His character made sense even when the plot didn't, which I think deserves a whole ton of credit.
Also. Gary Busey.
Other things I would be remiss for not mentioning: Red Hot Chili Peppers's Anthony Kiedis makes a cameo as a member of a surfer gang that beats the crap out of Keanu.
And also Ratt (a band I would like to go on record and say I do not like) recorded the final song, which was the last featuring their original lineup. The song is fine, I guess. Feels like a Red Hot Chili Peppers song would have been better though…
More importantly, a number of bars have taken inspiration from the film:
There's a Point Break themed bar in Midtown Manhattan
DC's Hanks on the Hill had a Point Break themed cocktail menu for a week in 2014
Moving Sidewalk (permanently closed) had several Point Break themed cocktails. You may not be able to order one from the bar anymore, but you could try recreating your own "Lawyers Don't Surf," which Eater Houston tells me is a "mix of Rye Whiskey, Aperitif wine and Rhubarb Amaro with a salty sea water twist via celery salt tincture."
Okay, up next is To Wong Foo Thanks for Everything, Julie Newmar. This will be a first time watch for me. I'm definitely going to have to do my research on that one! I didn't really do research on this one. All that trivia came from the IMDB trivia page. Oh and I should mention that the IMDB trivia also mentioned that Keanu Reeves learned how to surf in Hawaii after being cast in this role. And Swayze did a substantial number of his own stunts (including an honest to God sky dive). Because of course he did.