Oh how I love the Bar Wars episodes of Cheers! And this one is extra special because it is also a Halloween Episode!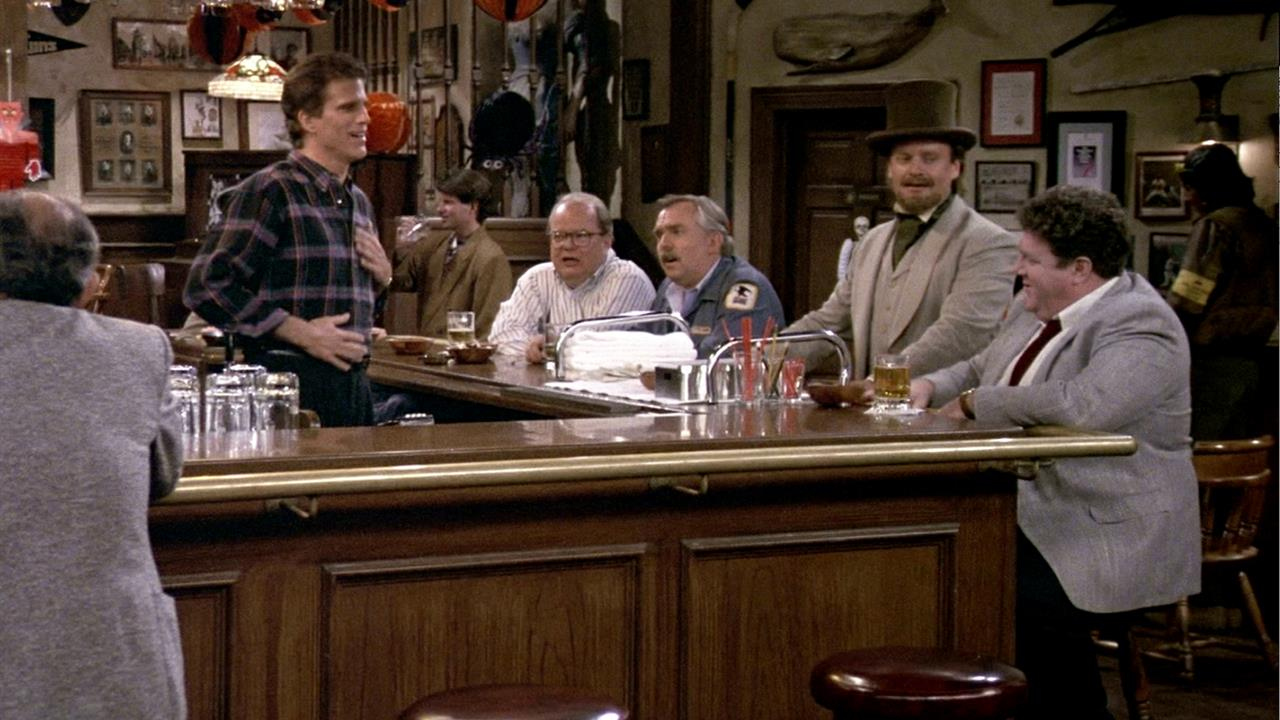 Expecting a visit from Gary's Old Town Tavern, Carla and Sam are running reconnaissance missions to ensure the security of the bar from Gary's pranks. Meanwhile, Rebecca is sad she never got to trick-or-treat as a kid while Lillith and Frasier argue about whether or not to let Frederick — who can barely walk — trick-or-treat.
In the midst of all this, Gary's first prank arrives. The Cheers jukebox starts playing a very annoying Halloween song quite loudly. When Sam calls to give Gary a piece of his mind, the same song plays loudly over the phone. Grade-A work, Gary.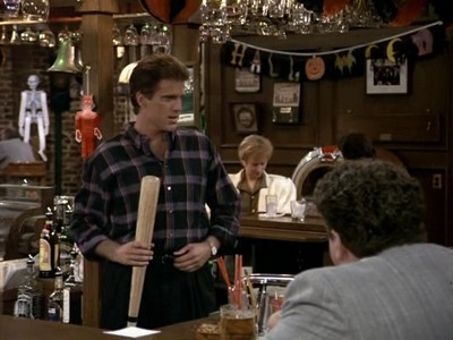 Now its Cheers's turn to retaliate and as usual…they can't think of one good idea.
Sam suggests the following:
Soap his windows
Deliver a bunch of subpar Chinese food to his restaurant so he has to pay for it
Since Gary damaged Sam's vintage jukebox with his prank, he shows up at the bar to write Sam a check. Fearing further pranks, Sam tries to shoot Gary with water from the soda gun, only to find out that the soda gun has also been rigged to play the same annoying Halloween song.
Gary then reveals that he has high blood pressure and they will need to cancel all of the planned pranks for tonight. He also buys everyone a round of drinks. VERY SUSPICIOUS.
Sam tells Gary that his health is the most important thing, but as soon as he leaves the gang starts plotting pranks again. It's all just another trick so Gary can catch the Cheers crew unawares, right?
Also it seems that Lillith and Frasier have settled on taking Frederick out to trick-or-treat. He is dressed as a little baby Spiderman. Frasier is dressed as Dante Gabriel Rosetti. And Lillith is dressed as his sister Christina. Mother of the year, Lillith, tried to explain to Frederick "what would happen if one were really bitten by a radio active spider, but he just cried."
In a genuinely heartwarming moment, Frederick reaches into his candy bag and gives Rebecca a tootsie pop when she tells him how lucky he is to trick-or-treat because when she was a child, she was the one who had to pass out candy at the door, which is just like a weird-ass parenting move and totally explains a lottt about Rebecca.
Okay, back to the bar wars. The Cheers gang decides to spook Gary with a giant hologram of Carla's head (but with spooky crazy white hair). The gang spies on Gary as he discovers the ominous head. He passes out as soon as he sees the hologram. Wondering if Gary's concern about his health wasn't just a prank, Frasier takes his pulse…but he can't find one!
Sam still thinks it is all a stunt — even after the coroner's report confirms that Gary is in fact dead. He even thinks that Gary's funeral is a hoax. Soon a bartender from Gary's arrives to deliver a present for Sam. It seems that Gary has willed Sam his bowling trophy, which Carla describes as his "prized possession." The bartender shares how moved Gary was by Sam's concern for his health and that he wanted him to have this memento (which you may remember Gary's Old town Tavern winning against Cheers in From Beer to Eternity).
Frasier tells Sam it is time to face facts: 1. Gary is really dead and 2. they all played a part in his demise. But Sam still cannot accept this fact. He even takes a peak inside the closed casket during Gary's wake and Gary is actually in the casket!! Sam is then asked to be a pall bearer. Everyone tells Sam how highly Gary thought of him! But Sam can't stop looking out for potential pranks.
This is truly a dizzying episode. At Gary's grave side, Sam places a few flowers on the fresh earth and tells Gary, "enough's enough! It's getting chilly out here!"
Finally hours after the funeral, surrounded by his closest friends, Sam wonders aloud, "Oh my God. What if he's really dead?" The Cheers gang realizes how much they miss Gary. And Sam feels truly guilty.
Omg this next part is great.
SAM: I never thought I'd say this. But I miss Gary. He was a true friend.
FRASIER: That would have made a better eulogy than "Get out of there, Gary."
Woody starts sobbing and goes to the bathroom to be alone. Sam follows him and urges him to come out and mourn with all the rest of them. Woody emerges, still sobbing into his hands. Only to look up and reveal that he is in fact Gary. The real Woody comes out of the bathroom and the whole gang laughs at Sam's expense.
This is good too –
SAM: You were all in this together?
NORM: The whole city of Boston was in on this one, Sam.
It turns out the Cheers gang really wanted to pull off a successful prank and Sam just didn't have any good ideas. So they teamed up with Gary. But damn. What a dark, dark joke.
Very Special Halloween Lesson: If your friends like pranking people with you, never for get that they can always prank you too.