Joey hasn't had a date in while, so Danny and Jesse decide to set him up with a lady. Really this shouldn't be shocking because he's a grown man who randomly lives in the basement of his friend's house. On top of that, I'm not even sure that he has a job at this point in the show. But fine I'll pretend to care about Joey for this episode.
But first, I'm obsessed with Stephanie's outfit here, so please leave me a note in the comments if you see this jacket in an adult size. Thank you in advance.
Joey spends the afternoon calling everyone he's been out with that year to see if anyone is free for New Year's Eve. This is the 1990 equivalent of getting a "hey" text several months later from a guy you regrettably hooked up much earlier in the year and have since forgotten about. NOT that I'm speaking from experience.
Joey — sad that he has no date but apparently unaware of the negative effect his denim shirt with Babar appliqué has on his relationship status — offers to stay home with Michelle and Stephanie on New Year's Eve, so that Danny, Jesse, and DJ can go to parties. This prompts Danny and Jesse to find Joey a date. This also marks the last point in the episode in which there is any semblance of ethical or personal boundaries between these three grown-ass men. Should be a fun episode!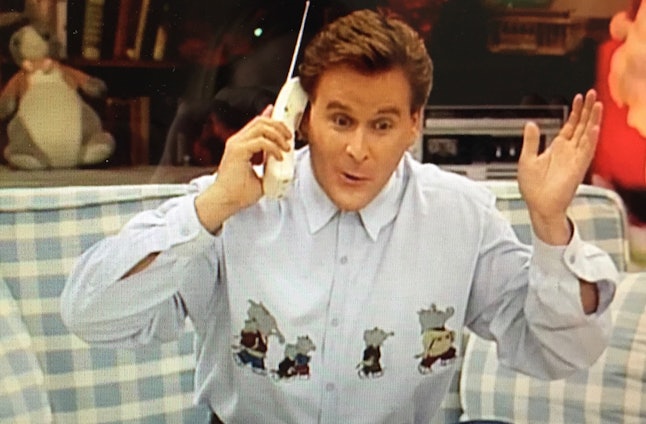 The two of them decide to sign Joey up for a video dating service without him knowing. To trick him into sitting for the video, Danny calls Joey up to the attic, where Jesse has hidden a secret camera in an ad for toothpaste. (So I guess this is the point in the series where Jesse and Joey are writing jingles. My bad for calling Joey unemployed earlier on.)
Danny and Jesse act super strangely, which freaks Joey out. He notices they're "talking to the easel" but doesn't see the big circular cutout in front of the camera lens. He endures the weirdness just long enough for Danny and Jesse to get what they need on tape. When they come clean, Joey is made for literally two seconds. When Jesse tells Joey there are plenty of women who want to meet him, Joey gets over the massive violation of his privacy pretty quickly.
The prospects aren't great though. And what follows is a PG version of the club scene from Coming to America. But then we get to Christine's part of the video. Her friends have signed her up for this for Christmas and she's kind of skeptical about the whole thing. She seems cool, so Joey invites her over to the house for New Year's Eve dinner. I mean, I would have told DJ that she couldn't go to Kimmie's party, but I guess it's fine to bring a first date over to dinner when you're a grown man babysitting…(And just so you know I'm not a total jerk, Joey only agreed to babysit in the first place because DJ wanted to bail on her babysitting plans and go to Kimmie's party next door instead).
Unfortunately, Joey's gotten a little obsessed with the idea of Christine. He's decided she's "the one" based on a five second video in which she said literally nothing about herself. But they do appear to hit it off pretty quickly. She's even fine with babysitting three kids.Oh yeah, I should mention that Danny's date also left her son behind for babysitting. He's creepy and has breath spray even though he's like eight years old. Please see below: Steph has a pro-tip for dealing with this and I'm happy to share it with all of you –
Everyone arrives home in time to ring in the New Year, and Joey proposes to Christine. Even more bizarrely, she says yes. They decide to pack and go get married in Tahoe. In the time it takes Christine to go home and pack, they both decide that they don't want to get married.
Very Special Lesson for the New Year: Eh I mean honestly, it's just one day.